"Holy Cow! Really?": When a Beloved Comedian Was Dumbfounded After Learning He Was Related to MLB Great Derek Jeter
Published 03/15/2023, 1:40 PM EDT

Follow Us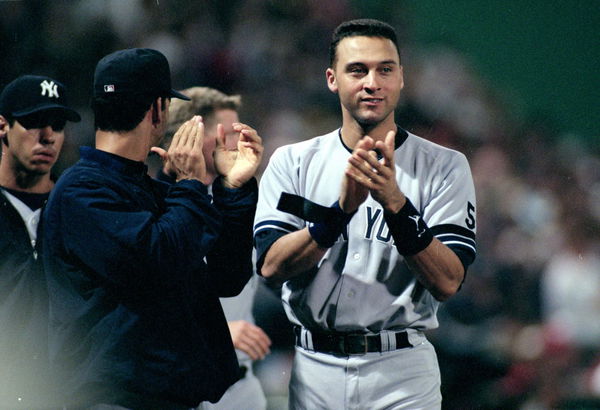 One man, Jim Gaffigan, is so far the only comedian to have performed in front of the pope – his name echoes along with people's laughs. On the other hand, there's Derek Jeter, former New York Yankees captain, who sent home runs soaring into the night sky, basking in the glow of stadium lights. Two completely different worlds, yet both managed to capture the hearts of people in their own unique ways.
Well, hold on to your hats, because the two seemingly unrelated individuals share a bond that transcends their professions. It may come as a surprise, but Jim Gaffigan and Derek Jeter are actually related! And they didn't know either, just until a few years ago when the comedian stumbled upon the truth. Let's delve deeper into the story of the unlikely connection!
The unexpected familial bond: 
ADVERTISEMENT
Article continues below this ad
Who would've thought that two people who are worlds apart would share such a strong bond? Jim Gaffigan, the king of comedy, and Derek Jeter, the baseball legend, were revealed to be cousins! When the comedian heard the news during an interview a few years back, his reaction was priceless. "Holy cow! Really?" he wondered aloud with a hearty laugh. It turned out that the two share an identical stretch of DNA.
The reason? Derek's biracial heritage made it possible. The shared DNA came from a distant, common ancestor on their family trees. As the interviewer pointed out, that ancestor was clearly on the white side of Derek's family tree, given Jim's lack of a black side. Jim, being as white as they come, couldn't resist a witty retort, asking with a smile, "You think so? You think it's the white one?" The interviewer chuckled in response. 
At first glance, the two couldn't be more different. One is a comedian who makes people roar with laughter, while the other is a sports icon who made people roar his name as he displayed his excellence in the ballpark. But perhaps their similarities lie in their shared passion for their crafts, after all, both are true masters of their profession.
ADVERTISEMENT
Article continues below this ad
One can't help but wonder though – is Jim a Yankee fan? Well, it would certainly be awkward if he turned out to be a Red Sox fan. 
Derek Jeter and Jim Gaffigan's ancestral history: 
It seems that coolness runs in the family. With roots tracing back to Europe, former US army veteran Derek Jeter's mother Dorothy has a family tree that is a mix of English, German, and Irish ancestry. And, drum roll please, Jim Gaffigan's line of descent can be traced back to Ireland, making him a true native of the Emerald Isle. So it might've been the green scapes of Ireland where their ancestry crossed paths.
ADVERTISEMENT
Article continues below this ad
Discovering that you are related to someone famous can be quite an incredible and almost unreal experience. For all the baseball fans out there, it might be worth investigating your family tree to see if you share any ancestry with the legendary Derek Jeter! 
WATCH THIS STORY: Ranking New York Yankees Legend Derek Jeter's Greatest Ever MLB All-Star Games
Edited By: Abhishek Kumar