"I Will Be at Travis Scott's Celebrity Game": 6X MLB All-Star Once Again Challenges MVP Aaron Judge
Published 01/21/2023, 8:30 AM EST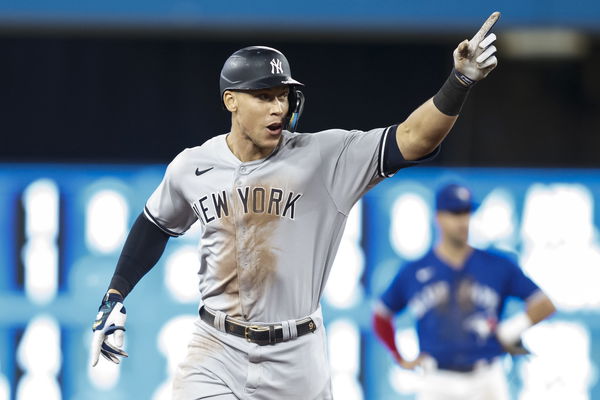 The drama of Twitter feuds has always kept baseball enthusiasts on the edge of their seats. This particular feud is about Jose Canseco – the powerful former slugger for the Oakland Athletics who became the first player in MLB to hit 40 home runs and steal 40 bases in a single season, in 1988.
Now, Canseco is issuing a challenge to current New York Yankees star Aaron Judge, who had an incredible season last year, hitting a whopping 62 home runs. Canseco, known for his confidence in his own hitting skills, is daring the Yankees slugger to a showdown to see who truly reigns supreme on the ballpark.
Jose Canseco hasn't given up on challenging Aaron Judge
ADVERTISEMENT
Article continues below this ad
Jose Canseco, the former slugger who also played for the New York Yankees, has issued a fresh challenge to Aaron Judge on Twitter. In his latest tweet, Canseco wrote, "Aaron judge I will be at Travis Scott's celebrity softball game in Houston on February 16 hitting some long Homer's come check it out…" This is just the latest in a series of his tweets where Canseco has been challenging Judge. 
READ MORE: "I Kind of Enjoy Failure"- New York Yankees Star Aaron Judge Told a Startling Truth Long Before Taking Derek Jeter's Famous Role
Baseball fans are savoring the drama of the tweets, with some taking it in stride and others getting fired up. 
Aaron Judge I will be in my kitchen eating cereal for breakfast tomorrow morning come check it out…same vibe

— 5am Dan (@DarinWrisley) January 18, 2023
Once you figure out how Twitter actually works you'll be unstoppable.

— Josh Palmer (@JPalmsBTV) January 18, 2023
I don't think he's into you, man.

— Nestor's Apple 🍎 (@appleofnestor) January 19, 2023
Some of the tweets are taking this feud in a comical context, while others believe Canseco is trying to stay relevant through Aaron Judge.
When did Jose Canseco's tweet storm began?
ADVERTISEMENT
Article continues below this ad
Jose Canseco's tweet storm began in November last year. It began with his thoughts on Judge's free agency. His tweets reflected on his own tumultuous time with the Yankees in 2000 and urged Judge to leave New York. 
Somewhere in between the tweets, Canseco issued a challenge to Judge, saying "By the way Aaron judge I can still hit a softball further than you can hit a baseball anytime you to find out contact me." 
WATCH THIS STORY: Top-5 Most Electrifying Home Runs By New York Yankees Star Aaron Judge 
ADVERTISEMENT
Article continues below this ad
He went quiet for a few months, but on January 5th, he posted a video of himself hitting baseball hitting baseballs at an arcade, with the caption "Aaron judge I am getting ready for you let's see if you can hit a baseball as far as I can hit a softball I doubt that very much let me know when you're ready we'll do the competition for charity." 
It remains unclear if Judge has seen the tweets, but he has yet to respond.
Edited By: Abhishek Kumar