"Just Saw a Really Big Opportunity"- Business Mogul Alex Rodriguez, With His Billionaire Partner Marc Lore, Is Set to Revolutionize Whole Fan Experience With a Touch of Technology
Published 03/11/2023, 11:00 AM EST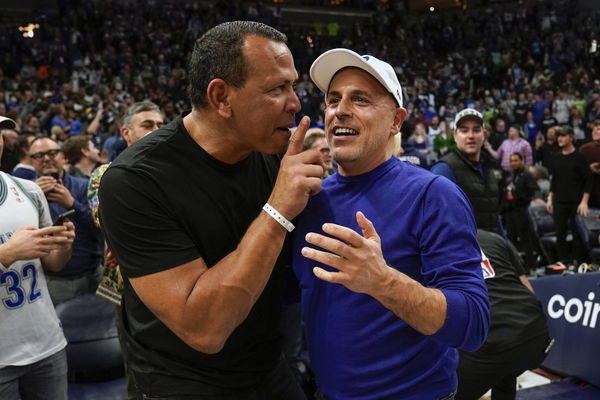 As of now, former MLB poster boy Alex Rodriguez has invested in a multitude of businesses, pushing his net worth to a massive $350 million. One of his multitude of ventures is being a part owner of the NBA's Minnesota Timberwolves and WNBA's Minnesota Lynx. A-Rod fulfilled his dream of owning a sports team with his billionaire friend Marc Lore. not many are aware but, A-Rod and Lore have also invested in quite a few other ventures. 
If reports are true, then with a $20 million investment, the duo is set on bringing change to the entire fan experience with a touch of technology. One of the major things that they'll be focusing on is new ticketing and fan experience. They plan to change the way business is done in the ticketing industry of sports events.
How are Alex Rodriguez and Marc Lore going to bring a change?
ADVERTISEMENT
Article continues below this ad
Marc and Alex's business acumen and strategic vision have positioned them as two of the most successful and influential entrepreneurs in the business world today. Up until now, the ticketing industry has been a big drama consisting of many challenges. Some include scalping, lack of transparency, counterfeiting, and limited access. But that is about to change. 
In a couple of interviews, the billionaire Marc Lore spoke about his and A-Rod's new company, Jump, and its mission. "As Alex and I began exploring ownership opportunities with sports teams, we spoke to industry execs and began seeing first-hand how many teams were missing the mark when it came to their fan experience," said Lore in an email to Bloomberg. 
ADVERTISEMENT
Article continues below this ad
In the interview, he added, "just saw a really big opportunity to completely upend the whole fan experience through technology." One of the changes that Jump will be making is that a person can buy a ticket to a game well after it starts. 
What other businesses do Rodriguez and Lore own?
While talking individually, Marc and Alex have invested in many ventures that sometimes can be hard to keep track of. But together, aside from the basketball teams, they have invested in an online brokerage Tornado, sports stock market Mojo, and many others. 
ADVERTISEMENT
Article continues below this ad
Which industry would you want this magnificent duo to tap into next? Let us know in the comments below!
Watch this Story: Here's a quick look at five things legendary Alex Rodriguez can't live without
Edited By: Abhishek Kumar