Landmark! Kelsie Whitmore Becomes First Female Professional Baseball Player in the Atlantic League
Published 05/02/2022, 2:09 PM EDT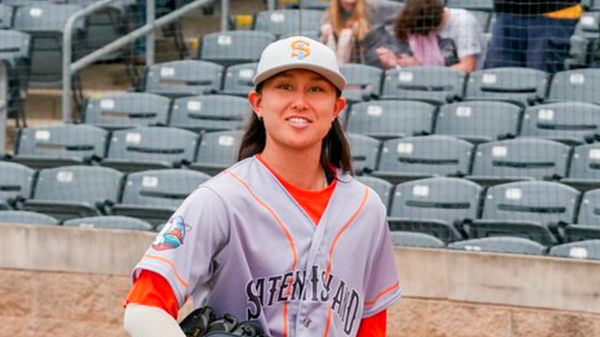 Kelsie Whitmore became the first woman to start a game in the Atlantic League of professional baseball on Sunday. Whitmore batted 9th and played in the left field for the Staten Island FerryHawks as they faced the Gastonia Honey Hunters.
In the end, the Honey Hunters defeated the FerryHawks 10-5. However, Kelsie Whitmore's lineup inclusion was a new beginning, as the Atlantic League is affiliated with the MLB.
ADVERTISEMENT
Article continues below this ad
The weekend was a historic day for the sport as a whole. For the first time, a woman baseball player was included in the starting lineup of the Atlantic League, which works in affiliation with the MLB.
Kelsie Whitmore is now regarded as a source of inspiration for many girls who dream of becoming a baseball player as she played for the Staten Island Ferry Hawks in their game against the Gastonia Honey Hunters on Sunday. Notably, 23-year-old Whitmore signed with the FerryHawks on April 8th, 2022.
Kelsie Whitmore scripts history!
Kelsie Whitmore is a two-way player as she is a right-handed hitter but also loves to pitch. Her pitching game reached a whole new level when she started working with her pitching coach, Nelson Figueroa, who is also a former MLB player.
On Sunday, Whitmore got struck out in her very first at-bat in the Atlantic League. In the second one, she was hit by the pitch as the ball struck her arm. In the 8th inning of the game, they pulled Whitmore off for a pinch hitter. Meanwhile, the game ended as the FerryHawks had to suffer a 5-10 defeat against the Honey Hunters on Sunday.
Kelsie Whitmore takes the field as the first woman to ever start a game in Atlantic League history. Make sure to send this to every little girl who thinks they can't play professional baseball! Those days are over fans, Kelsie Whitmore has arrived and she's here to stay! pic.twitter.com/9i7fiCwOYU

— SI FerryHawks (@FerryHawks) May 1, 2022
Kelsie Whitmore is a strong, confident woman, and that attracted the FerryHawks the most.
Upon signing, Whitmore said, "I'm very grateful and excited about this opportunity to sign with the FerryHawks. The culture and competitiveness of this ballclub just feel right to be a part of."
Talking about her dream, Whitmore said, "I've been working for an opportunity like this my whole life, and I'm ready to get after it and complete."

ADVERTISEMENT
Article continues below this ad
Kelsie Whitmore will indeed be the pioneer of women's baseball in the MLB-affiliated league. Her success story will inspire girls who dream of playing in the big leagues someday.
ADVERTISEMENT
Article continues below this ad
Not to mention, some people already call her the 'Female Shohei Ohtani'. However, she is best regarded as Kelsie Whitmore; the first of many to come.
WATCH THIS STORY: WATCH: US College Baseball Star Shows Stunning Gameplay in Ballpark to Score an Inside Park Home Run