"Leave Him Alone" – Mariah Carey Once Laughed Uncontrollably Before Defending Ex-Boyfriend Derek Jeter in a Casual Interview
Published 01/24/2023, 12:45 PM EST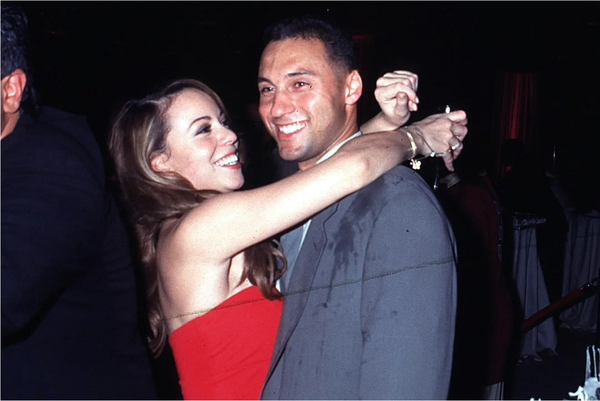 New York Yankees legend Derek Jeter stayed on the diamond for a better part of his life. He spent over two decades of his life playing for the Bronx Bombers. The former shortstop started rising to fame in his rookie year in 1996 when he helped his team win World Series. But by then, another dream of his was yet to be fulfilled. As a teenager, he dreamt of not only dating but getting married to the iconic singer Mariah Carey. He also used to have her posters on his wall as he remained in his world, hitting balls and listening to her songs. 
A year after winning his first World Series Ring, a part of Jeter's other dream of Carey came true. They dated for a short time period from 1997 to 1998. But it left a significant impact on the singer's life. And once, in an interview, the Songbird Supreme, before defending her then-beau, laughed uncontrollably.
What made Mariah Carey laugh hysterically?
ADVERTISEMENT
Article continues below this ad
After winning his first World Series Ring, Derek Jeter created a name for himself in the sporting world. But in the world outside of sports, some people still did not know who Derek Jeter was. The reason might be that the ex-captain was only starting out in his career. 
Therefore, during O-zone's interview with Carey, the host spoke the names of people Carey was supposedly dating. Then when the host came to talk about Jeter, he said to the singer, "Some guy in baseball I've never heard of him" These few words were enough for the singer to erupt with laughter before she defended her ex-boyfriend by saying, "Leave him alone. He's a good guy."
With the reputation that the former Yankee had in the Bronx, he, indeed, was a good guy. But that was also before his alleged playboy days in the Big Apple. 
ADVERTISEMENT
Article continues below this ad
What impact did dating Derek Jeter leave on Carey?
When Carey and Jeter started dating, the singer was in an abusive marriage with music producer Tommy Mottola. Since her relationship with Jeter, and briefly in her memoir, the singer spoke about how the ex-athlete helped her escape that abusive relationship. 
Watch this story: From Mariah Carey to Lara Dutta: Derek Jeter's star-studded dating history
ADVERTISEMENT
Article continues below this ad
Often she has said that Jeter might not have been the love of her life, but a love in her life that helped her realize she was worth much more love than what she was getting in her life. 
What do you think was the reason for Jeter and Carey to split up? Let us know in the comments below!
Edited By: Akash Pandhare