Lucky MLB Fan Took a Drastic Measure to Lay Low Amid Wild Chaos Involving Aaron Judge's 62nd Home Run Ball
Published 01/04/2023, 10:30 AM EST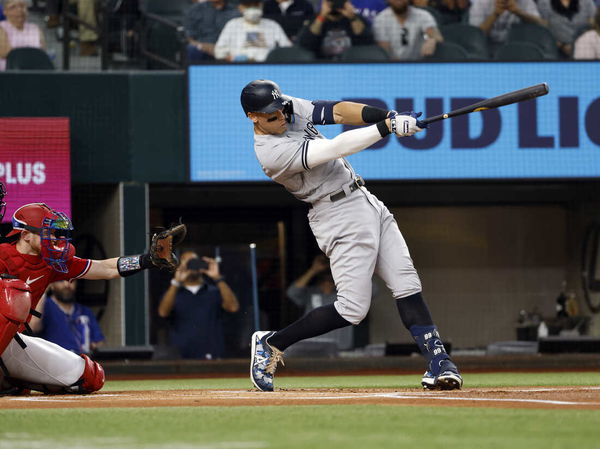 As a crack of the bat echoes through the stadium, baseball fans eagerly stand up, hoping to catch the home run ball. For most baseball enthusiasts, simply catching the ball is a core moment to tell their friends about. But for a select few lucky (or perhaps unlucky) people, the ball could be worth far more than just a good story.
Snagging a home run worth seven figures was a dream come true to Cory Youmans – the fan who caught Aaron Judge's historic 62nd home run at Arlington's Globe Life Field on October 4, 2022. He caught it while sitting in the first field of the left field.
Youmans' commitment of not being a distraction to Aaron Judge 
ADVERTISEMENT
Article continues below this ad
He was thrust into the limelight when he caught the Yankees slugger's home run, but he was determined to lie low until the season was over. Right after catching the home run, Youmans was whisked off by the ballpark's security so the ball could be endorsed.
"That first week was pretty chaotic," he said this to Sports Illustrated. "Catching the ball was so random… it's not like we could plan for something like that. Before we could think about what to do with the ball, there was real-life logistics to figure out." 
REAM MORE: "I'm Thankful For the $1.5 Million" – Despite Losing Big, MLB Fan Claims He's at Peace With Aaron Judge's 62nd Home Run Ball's Fate
Initially, he took no chances with the coveted ball. He locked it away in a bank vault for safekeeping as well as to not cause any distraction to the Yankees. However, as time passed, and he weighed his options, Youmans ultimately made the decision to put the ball up for auction. Despite being offered more lucrative deals on other platforms, he chose to settle for a comparatively modest sum of $1.5 million. Not because he made a wrong decision, but because he wanted to take a safer and more transparent route. "I was just uncomfortable selling the ball behind closed doors. So we went with the safe, open, fair route at auction," Youmans added.
ADVERTISEMENT
Article continues below this ad
Current owner of #62
Youmans laid out his thoughts in a statement from Goldlin Auction House, the company responsible for the ball's public bidding, "Congratulations to Joe! Given the historical significance of #62, it was important to me that the selling process was fair, accessible, and transparent."
WATCH THIS STORY: Top 5 most electrifying home runs of New York Yankees star Aaron Judge
ADVERTISEMENT
Article continues below this ad
'Joe' is the winning bidder who owns the piece of history now. According to Goldlin, he is a prominent midwestern collector. However, the full extent of Joe was not disclosed. 
As for Youmans, the end deal was enough for him as he is moving onwards with his life.
Edited By: Abhishek Kumar