$360 Million Man Aaron Judge Reveals How He's Immune to New York Yankees' Bizarre Cost-Cutting Method
Published 03/16/2023, 11:52 AM EDT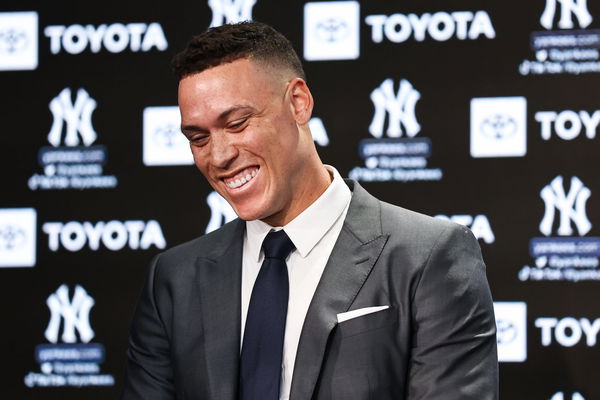 New York Yankees outfielder and AL home run king Aaron Judge, in his seven years of career in the Bronx, has already achieved quite a few titles and accolades to his name. Aside from his astonishing skills on the field, All Rise Aaron Judge is also known for his outstanding character. He is regarded as a humble person who stays quiet and would be the first to break off any argument on the field. It seems like the sixteenth captain of the Bronx Bombers isn't bothered much by almost anything that happens around him. 
And it would be the same case in the clubhouse when the Yankees management, which is worth over $6 billion, refused to pay for today's amenity for its ball players. 
Seems like nothing could bother the mighty Aaron Judge 
ADVERTISEMENT
Article continues below this ad
Like many baseball fans, Yankees' Gerrit Cole and Aaron Judge also dreamt of playing for the Yanks as a kid. But little did they know that their favorite billionaire organization, which pays hundreds of millions to their players in salary, will tragically say no to a basic amenity. 
The latest report of Sports Illustrated revealed that out of the many perks the front office provides its players, in-flight Wi-Fi isn't one of them. But it failed to affect the reigning AL MVP. Talking about the reason behind it, he said, "I've got T-Mobile, so I don't have to worry about it."
For those unversed, T-Mobile is a telecommunication company that offers its customers free Wi-Fi on Delta flights. And since Judge already had it, the team not providing in-flight Wi-Fi did not factor into his decision to re-sign with the Yankees. 
Talk of no-Wi-Fi is not going to stop anytime soon!
Soon as the news hit the internet that the Yankees did not pay for Wi-Fi, fans started mocking them. Recently, team owner Hal Steinbrenner made a statement about the team's play in the upcoming regular season. 
Instead of talking about that, the fans chose to mock Steinbrenner for his inability to provide Wi-Fi. This talk is everywhere and probably will not stop any time soon. 
ADVERTISEMENT
Article continues below this ad
Following is the tweet in which the fanbase could not stop themselves from bringing the Wi-Fi talk. 
Hal Steinbrenner: "Do I think we're good enough to win a championship now? The answer is yes. But we've got to stay healthy."

— Bryan Hoch (@BryanHoch) March 15, 2023
ADVERTISEMENT
Article continues below this ad
Have a look at it and let us know if you think not paying for in-flight Wi-Fi is the right decision by the management or not. 
Watch this Story: Top 5 most electrifying home runs by New York Yankees star Aaron Judge
Edited By: Deepika Bhaduri