"Mine Never Compared to Alex's"- After Accepting a Harsh Reality, Derek Jeter Once Found the Ultimate Response to Alex Rodriguez's Infamous 2001 Comments
Published 12/30/2022, 7:10 AM EST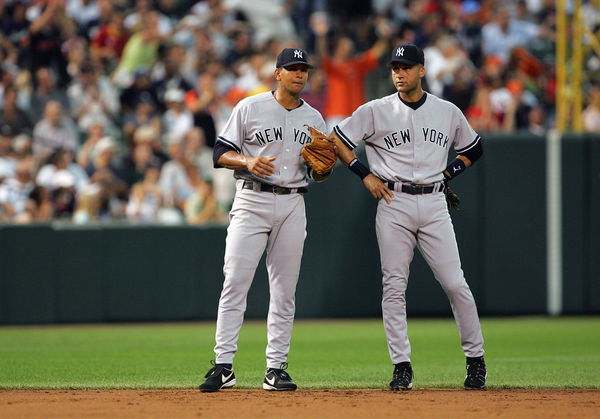 Derek Jeter very rarely involved himself in controversy and preferred to stay as far away from it as possible. But sometimes it is difficult to avoid it no matter how hard one tries. This is what happened many years ago when Alex Rodriguez openly took a dig at Jeter.
Throughout his career, Jeter has always answered criticism head-on rather than avoiding it. Something similar Jeter did when A-Rod criticized him as well. Furthermore, the Baseball Hall of Famer replied to A-Rod's jibe with valid and sensible reasoning.
Derek Jeter recently opened up on how he felt after Alex Rodriguez made negative comments about him
ADVERTISEMENT
Article continues below this ad
According to Entertainment Tonight, Jeter responded in his docuseries, 'The Captain'. The Yankee legend was unhappy with what Alex Rodriguez said and chalked it down to A-Rod's own insecurities. Around that time, Rodriguez had made negative comments about Jeter's play and contribution to the Yankees multiple times.
Per Entertainment Tonight, Jeter said, "In my mind, he got his contract, so you're trying to diminish what I'm doing, maybe to justify why you got paid. When you talk about statistics, mine never compared to Alex's. I'm not blind. I understand that. But, we won!" This was an extremely straightforward response from Jeter and a jab at A-Rod's lack of team success at the time. 
ADVERTISEMENT
Article continues below this ad
Before these comments, A-Rod and Jeter were very close friends. But after what Rodriguez said, the relationship never went back to what it was earlier. The ex-Yankees captain said that it was something a friend wouldn't do. But their friendship never recovered even when they became teammates.
Jeter and A-Rod never shared a close bond after their rift
Alex Rodriguez was to the New York Yankees in 2004 and he was teammates with Derek Jeter. Rodriguez changed his position to third base in order to play with Jeter. The two kept a cordial relationship during their time with the Yankees, but it was nothing more than that. The two were unable to recover the friendship that they had as young prospects in the league. 
ADVERTISEMENT
Article continues below this ad
Watch this story: From Alex 'A-Rod' Rodriguez to Derek Jeter: Here are the top 5 richest MLB players of all time
But Alex Rodriguez recently stated that he regretted the statements he had made. He also felt unhappy that when he and Jeter played together on the Yankees, they were not as close as before. What do you think of Derek Jeter's response to Alex Rodriguez? Please share your thoughts in the comments below!
Edited By: Abhishek Kumar