"Feel Bad for the Kid": Fans Sympathize With 19-Year-Old Canadian Ace After Brutal Team USA Drubbing
Published 03/14/2023, 1:41 PM EDT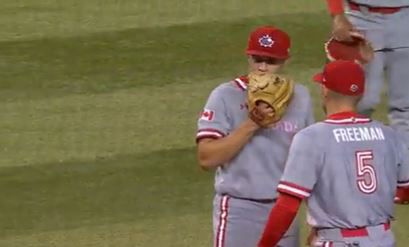 Playing at the World Baseball Classic is the experience of a lifetime. Many stars have had iconic performances or epic breakthroughs at this global tournament. This year's edition has provided baseball fans with their fair share of drama, excitement, and action. Stars have performed, youngsters have proved their mettle and some players have faced difficult trials. 
This is the nature of the global stage, with many young players looking to represent their nations. Most recently, a Canadian teenager was distraught following a difficult outing against Team USA that led to his substitution.
Canadian pitching sensation Mitch Bratt was distraught after a difficult World Baseball Classic outing
ADVERTISEMENT
Article continues below this ad
Team USA has looked good at the World Baseball Classic so far. They were particularly good in their most recent game against Canada. In the first inning, they smashed 4 runs off of Canadian teenager Mitch Bratt, leading to his substitution. The youngster looked devastated as he left the field following 1 incomplete inning of pitching. Fox Sports: MLB shared the moment of his substitution on Twitter, capturing the teenage prospect's distraught look.
In the Tweet, Fox Sports: MLB said, "An emotional Mitch Bratt gets pulled from the game". He was upset, having only thrown 25 pitches and gotten one batter out while giving up 4 runs. Bratt gave his best efforts, but Team USA's batting lineup proved too strong. 
The video has drawn sympathetic and encouraging reactions from fans. They all believe that he gave his best and will have further opportunities to play for his country.
Some fans sympathized with him and showed compassion for Bratt's difficult outing.
Feel bad for the kid honestly. 19 years old, facing an all star team. I'm sure he'll bounce back and get better

— Jared Rex (@rexy2012) March 14, 2023
Feel bad for him that's an impossible spot

— John Nucero (@j_nucero) March 14, 2023
That's gotta be hard. But I have so much respect for him. 19 years old and facing *that* lineup on a huge stage… Hopefully it's smoother sailing from here on out and he can laugh about this in time.

— commissioner shayla (@shaylarz) March 14, 2023
Can't help but feel for this kid but it'll only make him better. I'll take a guy who cares this much on my team any day

— Rob (@RGrabel52) March 14, 2023
Others recognized his passion and said that he will grow into a great pitcher.
Took balls to get out on the rubber and face a HOF lineup at 19. Hope to see you bounce back in a big way. Mad respect for this kid.

— C Alexander Philip Sexton(CAPS) (@TheKamikaze_Kid) March 14, 2023
Keep your head up and keep pushing forward young man veterans would have trouble with this lineup just the guts it took for you to do what you did and kee battling you won bubba look forward to the future it's bright

— Devon Meyer (@dmiez14) March 14, 2023
Kid is gonna pop off, watch. He had to navigate a TOUGH lineup of All Stars even for well seasoned pitchers like Cole, Verlander, Scherzer, etc.

— Enoc Sanchez 🇩🇴 (@enoc_sanchez64) March 14, 2023
ADVERTISEMENT
Article continues below this ad
Canada still has two games left in the tournament, giving Bratt ample opportunity to earn redemption. Furthermore, Canada may still qualify for the quarterfinals. A Nicaraguan pitcher earned an MLB contract after a fantastic outing, contrary to Bratt's experience thus far. But there are games yet to be played. 
Team USA has bounced back from an embarrassing defeat
Team USA eventually beat Canada 12-1 building on a fantastic first inning against Mitch Bratt. They have established their dominance once again and will look to win their last qualifying game against Colombia. 
ADVERTISEMENT
Article continues below this ad
It will be interesting to see how Team USA finishes against Colombia and whether Canada qualifies for the quarterfinals. What do you think of Mitch Bratt's performance in his World Baseball Classic start against Team USA? Kindly share your opinion below!
Watch This Story: 5 Movies For Every Baseball Fanatic
Edited By: Deepika Bhaduri