MLB Veteran Albert Pujols Melts Hardcore St. Louis Cardinals Fans With a Surprise Move
Published 03/10/2023, 3:39 PM EST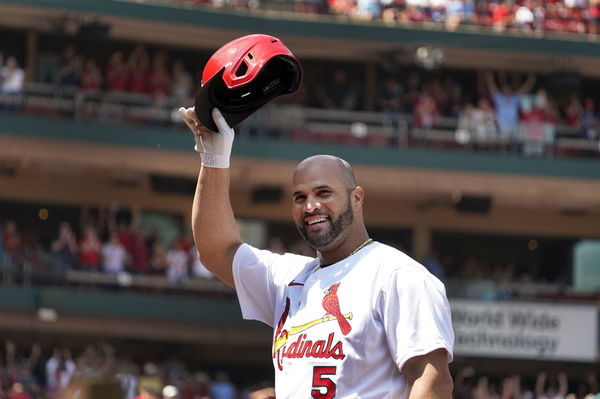 After a storied career that not many in Major League Baseball have managed to achieve, Albert Pujols is enjoying his retired life. Ranked fourth in league history for the highest career home runs at 703, Pujols was lauded for his power-hitting. After all, not everyone is worthy of the nickname 'The Machine.' And although he had a short stint with the LA Angels, it's perhaps Cardinals fans that love him the most.
And he loves them right back. After ten seasons with the St. Louis team, Pujols played nine seasons that included both LA teams. When it looked like the veteran might retire, he chose to honor the Cardinals fans one last time by agreeing to a single-season deal. The oldest MLB player three years in a row finally retired in 2022. But he recently paid the Cardinals another visit.
Albert Pujols visits the St. Louis Cardinals during spring training
ADVERTISEMENT
Article continues below this ad
The official Instagram of the Cardinals shared a post that showed Pujols visiting the team as they practice for the upcoming season. The caption read, "Look who came to visit! ❤️" Pujols was on his way back from Port St. Lucie after visiting family. His final destination is Miami this weekend, where he will attend a World Baseball Classic game.
 

View this post on Instagram

 
For any former star, visiting the diamond again would evoke nostalgia, and it was the same case for Pujols. And yet, the 43-year-old has no regrets about retirement. After his busy schedule as a professional athlete, Pujols can do whatever he missed out on all those years, even if they were the best time of his life.
"I'm just enjoying doing things that I wanted to do but because of my schedule and my career for 22 years — [for] which I'm grateful and blessed — I wasn't able to do," he told MLB.com. "Now I have my own schedule pretty much to do the things that I wanted to do back then that I couldn't do. Now I'm able to do it."
Does post-retirement life mean Pujols would be up for coaching?
Never say never is the philosophy Pujols is living by. On a still-fresh break from baseball, the former DH had been mentally prepared for his time after baseball. Now that he finally has it, he plays golf with his son AJ, who is a 22-year-old senior on the Vanguard University golf team.
ADVERTISEMENT
Article continues below this ad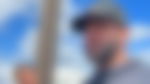 And as for stepping back into the league in a coaching role, he said, "Of course; I think it will happen. When the opportunity is calling and it's the right opportunity, I will revisit it and see if it's the best for me. As of right now and the next couple of years, I definitely will enjoy what I'm doing."
Fans were ecstatic at the news, and could not be happier. "One more year? 👀", "He could definitely still play", "New batting coach?!", they commented.
ADVERTISEMENT
Article continues below this ad
WATCH THIS STORY – MLB Legends Who Were Snubbed From The Hall Of Fame
Coach Pujols certainly has a nice ring to it!