MLB World is Excited as Hollywood Star Came to Support His Favorite Team, Philadelphia Phillies, and Having a Good Time
Published 10/23/2022, 12:00 PM EDT
Many big faces came in to support the Philadelphia Phillies in the game third of the NLCS against the San Diego Padres. Many stars from MLB came to show their support, but it was not only the MLB world that joined in to support the Phillies. Even NFL star Jason Kelce did a great job at hyping up the fans to cheer for the team. 
With MLB and NFL worlds coming together, in no scenario then, Hollywood could stay out. 
ADVERTISEMENT
Article continues below this ad
Many Hollywood stars have previously told about the baseball teams they support and why. The "Top Gun: Maverick" star Miles Teller is one such actor from Hollywood. Pure joy stayed on Teller's face as not only did his favorite baseball team win, but they also took lead over their opponent, Padres. 
What did Teller do that made fans of the Philadelphia Phillies go crazy?
As soon as the Phillies took the lead over the Padres, Teller came in all hyped up to join the crowd cheering for the team. The feeling of pride and happiness can be clearly seen on his face. Phillies fans also noticed it and became as excited as he was when their team win. 
Game 4 of the NLCS has already happened, with the Phillies winning the game and taking the lead by 10-6. Now, only three games are left in the NLCS, and the Phillies just need one more win to advance to World Series. Whereas, the Padres need to win the rest three games if they want any chance at being in the World Series.
Whichever team wins the NLCS will play the World Series game against either the Yankees or the Astros. But that's a later thing to happen.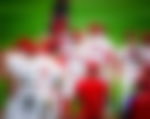 Till now, the Phillies fans have enjoyed the game, with game 3 being the one attended by many stars. Having many stars come in to support Phillies gave the crowd at the Stadium a treat, just like they got to see Miles Teller having the best time.
Here's how the fans reacted to Miles Teller cheering!
Goodness gracious, great balls of fire

— Leo Gavitt | 21 | he/him | #blacklivesmatter (@leogavitt01) October 22, 2022
BIG Miles Teller Guy, he's out there thriving

— Tom O'Brien (@Tom_OBrienn) October 22, 2022
ADVERTISEMENT
Article continues below this ad
The most relatable miles teller has ever been

— Bob hanna (@bhanna2387) October 22, 2022
ADVERTISEMENT
Article continues below this ad
Watch this story: Black Betsy to Wonder Boy – Baseball's most iconic bats
What do you think of Teller's reactions to the Phillies' win in game 3 of the NLCS?
Edited By: Rupak Kumar Jha