NASA Once Gave MLB Legend a Fitting Tribute That Was Literally Out of This World!
Published 03/19/2023, 2:19 PM EDT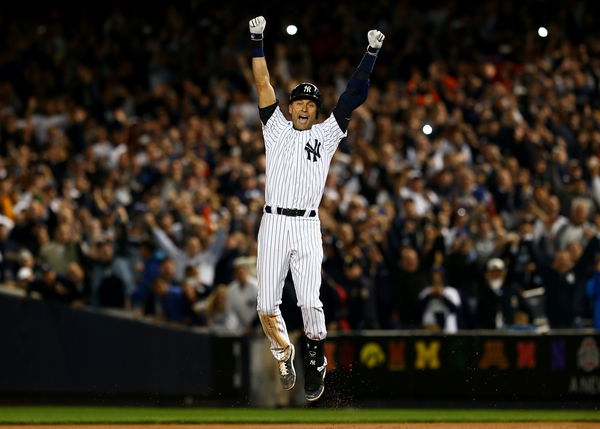 Derek Jeter, a name that still reverberates throughout the world of baseball to this day. He was the heart of the city that never sleeps, breathing life into the New York Yankees for almost 20 years. Jeter's rise to fame was like a moon rising across the sky, leaving everyone in awe of his excellence on the field, his leadership, and his down-to-earth nature. 
Despite the frenzy surrounding his fame, the shortstop remained grounded, always keeping his feet firmly planted on the ground. But his fans were anything but grounded, soaring high with their love for the iconic players, singing out his name every chance they got. So infectious was their fervor that even those floating in space couldn't resist saluting the legend's journey. 
The love for Derek Jeter was quite literally out of this world 
ADVERTISEMENT
Article continues below this ad
Derek Jeter, a true epitome of a Yankee, was a celebrated champion of the team. He celebrated his last season with the New York Yankees with style. With just twenty days left to leave behind an amazing career, the former captain was given a fitting farewell with 'Derek Jeter Day' in the Bronx. It was a day to honor the man who had given his heart and soul to baseball, and celebrate they did! 
The love and respect for Jeter were quite literally out of this world. During the 2014 broadcast of the All-Star game, a touching commercial was premiered that paid tribute to the main man himself. 
ADVERTISEMENT
Article continues below this ad
200 miles above the planet's surface, NASA astronauts Steve Swanson, Reid Weisman, and Alex Gurst, floating in zero gravity on the International Space Station, tipped their hats to Captain Clutch in an endearing gesture of their admiration for the athlete. The video left him beaming, so it certainly was worth it! 
This wasn't the first time baseball and the literal space converged
According to the New York Yankees, paying tribute to Derek Jeter in this way was NASA's idea itself. The astronauts had limited options, but they did what they could with what they had. One of them wore an Orioles T-shirt, another a German soccer kit, and the third a No. 18 football jersey. 
ADVERTISEMENT
Article continues below this ad
On another interesting note, this was not the first time that baseball and the literal space had converged. In 2008, astronaut Garrett Reisman threw out the "first pitch" while aboard the International Space Station. It's a wondrous thing indeed. The human spirit sure knows no bounds, does it?
WATCH THIS STORY:  Ranking New York Yankees Legend Derek Jeter's Greatest Ever MLB All-Star Games
Edited By: Abhishek Kumar