"We Pulled the Trigger Very Quickly"- $350 Million Man Alex Rodriguez Opens Up on Buying the Minnesota Timberwolves Along With His $4 Billion Partner
Published 12/31/2022, 11:10 AM EST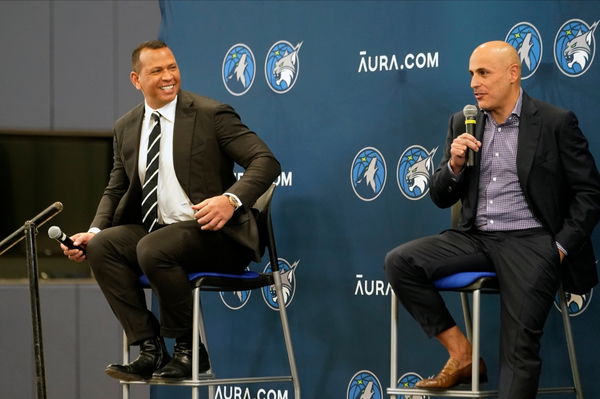 Alex Rodriguez has done very well for himself after retiring from playing baseball. The former Yankee star has flourished as an investor and businessman. Furthermore, he has managed to keep himself involved in sports, but in different roles. He works as a baseball analyst during the season and is also the owner of a sports team.
The team that Rodriguez has an ownership stake in is the Minnesota Timberwolves. Notably, A-Rod and his partner Marc Lore agreed on a deal to purchase the team in 2021. The former Yankee recently opened up on his investment in the team.
Alex Rodriguez talks about his investment in the Minnesota Timberwolves
ADVERTISEMENT
Article continues below this ad
During a recent appearance on the Money Maze Podcast, Alex Rodriguez opened up on investing in the Minnesota Timberwolves. The former Yankee star talked about losing the bid to buy the New York Mets and how the opportunity to buy the Timberwolves popped up soon after. He also opened up on the reason he and Lore went for it. 
Rodriguez said, "There was tremendous upside in Minnesota. Minneapolis is the ninth wealthiest city in this country, which a lot of people do not know. We have over 50 Fortune 500 companies right in the Minneapolis area. So it had all these kinds of levers that you can pull. The League was tremendous. We were acquiring it at an attractive price and Marc and I, my partner Marc Lore. We pulled the trigger very quickly and we're thrilled with the investment and our involvement."
ADVERTISEMENT
Article continues below this ad
Since acquiring the team, A-Rod has been very involved, often posting updates on social media. Furthermore, the Yankee legend seems very excited to get more and more involved with the team. A-Rod recently paid the second of the three installments to buy the team, but is not clear of danger yet. 
A-Rod still has one payment left to make for the Minnesota Timberwolves
Alex Rodriguez and Marc Lore currently own 40% of the Minnesota Timberwolves. The pair have to make one more payment in 2023 to acquire another 40% and a controlling interest in the team. If A-Rod fails to make the last payment, he might be in trouble. 
ADVERTISEMENT
Article continues below this ad
Watch This Story: From Alex 'A-Rod' Rodriguez To Derek Jeter: Here Are The Top-5 Richest MLB Players Of All Time 
According to David Scott of the New York Post "If they miss any payments, Taylor has the right to nullify their deal and retain them as minority owners." So if Rodriguez misses the last payment, he will stay a minority owner and lose the chance to gain controlling ownership of the team. What do you think of Rodriguez's story of buying the Minnesota Timberwolves? Please share your thoughts in the comments below.
Edited By: Abhishek Kumar