Alex Rodriguez and $4 Billion Worth Partner Take Massive Step Towards NBA Deal, but There's Still a Catch
Published 12/30/2022, 2:20 PM EST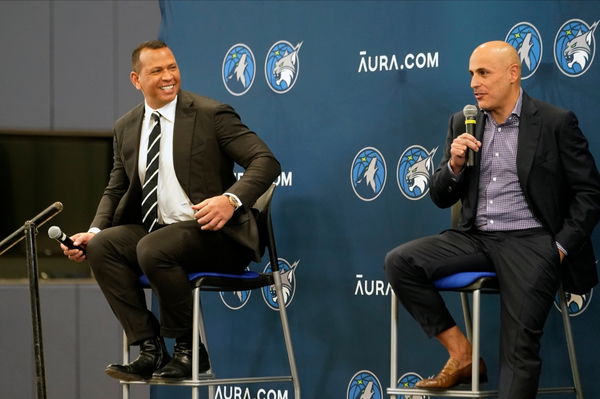 With over $350 million in his purse, Alex Rodriguez is a savvy businessman. The Yankee legend has invested in a number of different businesses over the years and built his fortune. In 2021, Rodriguez became a part owner of the Minnesota Timberwolves, along with Marc Lore. The two of them structured a deal to buy the team over a period of three years.
The second installment was due recently and rumors started to pop up that Rodriguez was struggling to pay for it. The rumors also suggested that the former MLB slugger might lose his ownership. But a recent update has offered some good news on the deal.
Alex Rodriguez has successfully paid the second installment, but the deal is not done yet
ADVERTISEMENT
Article continues below this ad
In a recent update, David Scott of the New York Post confirmed that Rodriguez and Lore exercised the option to buy the second 20%. This takes their total ownership to 40% and they can further increase it to 80% next year. According to Scott, "Alex Rodriguez and partner Marc Lore have exercised their option allowing them to purchase another 20 percent of the Minnesota Timberwolves and Minnesota Lynx".
ADVERTISEMENT
Article continues below this ad
However, if they do not make the last payment to take controlling ownership of the team, problems will arise. Scott wrote, "If they miss any payments, Taylor has the right to nullify their deal and retain them as minority owners." This would mean that they would lose their opportunity to become controlling owners of the team. But the duo of Rodriguez and Lore have enough time to make their last payment as it is not due till late 2023.
Buying the Timberwolves was a dream come true for A-Rod
After losing the bid to buy the New York Mets to Steve Cohen, A-Rod was very unhappy. The former Yankee star was infuriated at how he had lost the bid for the Mets. Furthermore, he was unhappy that he could not fulfill his dream of buying a sports team. 
ADVERTISEMENT
Article continues below this ad
Watch This Story: From Alex 'A-Rod' Rodriguez To Derek Jeter: Here Are The Top-5 Richest MLB Players Of All Time 
But very quickly after that, he was called and asked if he had an interest in buying an NBA team and from there, it was history. The deal to buy the Minnesota Timberwolves along with Marc Lore materialized and was finalized in no time. But what do you think of A-Rod paying the second installment for the Timberwolves? Please share your thoughts in the comments below.
Edited By: Abhishek Kumar