NY Yankees Star Aaron Judge on the Major Similarity He Shares With 7-Foot Giant Shaquille O'Neal
Published 06/23/2022, 8:30 AM EDT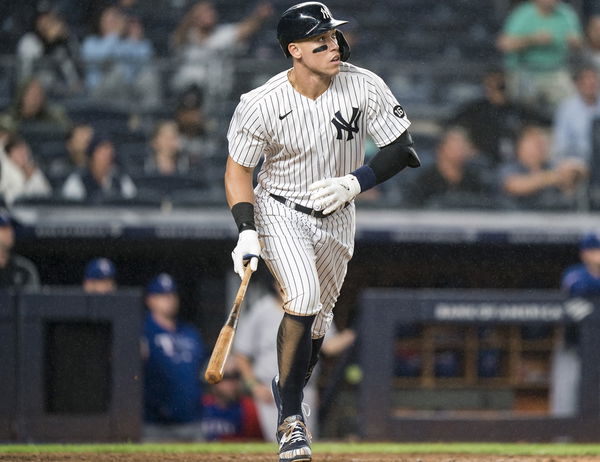 Aaron Judge is going through his career-best season in 2022. Known for his hitting capabilities and leadership skills, Judge is also famous for his gigantic height. With a stature of 6'7″, the New York Yankees star is one of the tallest players in Major League baseball.
His giant-sized height helps him generate more power to launch a home run. It also helps him to run faster between the bases. But everything has its pros and cons, and in Judge's case, sometimes his height has put him in difficult situations.
ADVERTISEMENT
Article continues below this ad
For a guy over 6'7'', their biggest challenge is getting fitting clothes and shoes. If Aaron Judge is a giant in the sport of baseball, then basketball legend Shaquille O'Neal is even taller than him. Both face the same problems with their outfits. Talking about the same, the Yankees slugger shared how difficult it was to get 17-size shoes in his younger days.
Aaron Judge had difficulties buying a pair of fitting shoes
Per the latest video on YouTube, Aaron Judge discussed his obsession with shoes. Notably, the Yankees star loves collecting the iconic shoes of some of the prominent figures in American sports. Judge also shared that he wears a 17-size shoe.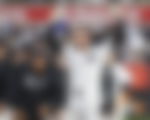 When the host asked him how tough it was for someone like Shaquille O'Neal, Yao Ming, or Kevin Durant to buy a pair of shoes, Judge said it was very tough. 
"I should not be complaining after you name those sizes. Yeah man, it was tough… It was kinda funny, like growing up you get one pair of shoes for the year. That's what you wear to school…" Judge replied.
"It made it tough going to the mall… All your boys are picking out like I'm gonna get 11 this and that. I am like, what's the biggest size you got? 14, alright! I'll catch you outside…"
ADVERTISEMENT
Article continues below this ad
Will Judge stay in the Bronx?
Given the current scenario, it is hard to tell whether Aaron Judge will play for the Pinstripes in the next season. Notably, he is in the last year of his contract. But instead of making him feel at home, the Yankees are giving him a reason to leave the team.
WATCH THIS STORY: Rare Photo Shows 6'7 New York Yankees Star Aaron Judge Looking Normal Next To Shaquille O'Neal
ADVERTISEMENT
Article continues below this ad
The Yankees are giving him $17 million for his arbitration year, while Judge demands to get $21 million. The hearing is on Friday for the same. But do not be surprised if Judge chooses a different team after the 2022 season.
Who do you think is at the fault here, Judge or the Yankees?