"Are You Going Over Your Boyfriend's House?" – Alex Rodriguez's Teammate Once Mocked His Tight Friendship With Derek Jeter After a New York Trend Developed
Published 09/27/2022, 1:00 PM EDT

Follow Us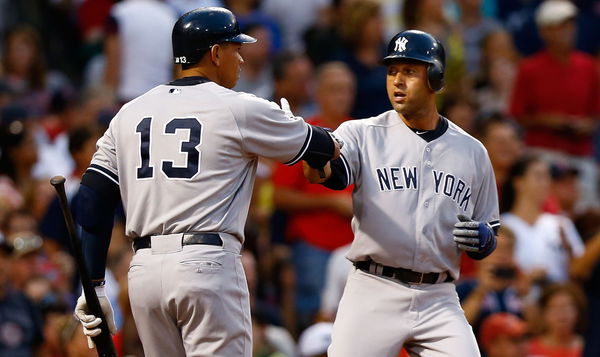 There are two players in Major League Baseball's history whose camaraderie has been in the talks for more than two decades now. However, Derek Jeter and Alex Rodriguez's friendship was equally in the news as their enmity, for almost two decades.
A few chapters of their love-hate relationship are also present in the book, "The Captain: The journey of Derek Jeter." At the start of their relationship, they were close to the point that they got teased about each other as if they were each other spouses. 
ADVERTISEMENT
Article continues below this ad
How did Derek Jeter first meet Alex Rodriguez?
When Derek Jeter first met Alex, both of them were shortstops, and A-Rod remained a shortstop till he joined the New York Yankees. Jeter met Alex at a college baseball game which apparently had left Rodriguez quite fascinated by the number 2.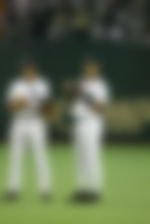 Ever since their meet-up at the baseball game, their friendship had only grown. Also, they were talking about each other to the point that people around them started getting annoyed. 
One of Alex's high school teammates, Doug Mientkiewicz, teased him when he saw A-Rod going somewhere. "Are you going over your boyfriend's house?," Doug often asked Alex.
But Rodriguez was not the only one who was hearing this question. Jeter's teammates were also teasing him about the same. Not only this, they both were often mistaken as brothers at times as well. They grew together for a long time, but because of some events, they drifted apart. 
ADVERTISEMENT
Article continues below this ad
What was the turning point in Jeter and Alex's relationship?
The competitiveness started building up in Alex after Derek Jeter won the Rookie of the year award in 1996. The turning point in their close relationship came in December 2000. It was when Alex Rodriguez got an offer from the Texas Rangers. That offer was the biggest contract in the history of Major League Baseball at that time. 
Then Alex was asked about the player he thinks could get that same offer or more. Out of nowhere, A-Rod replied that it definitely would not be Jeter. After this, Jeter said that he was not chasing A-Rod's record of the offer. Whereas Alex said that there was no beef between them.
ADVERTISEMENT
Article continues below this ad
Watch this story: From Alex 'A-Rod' Rodriguez to Derek Jeter: Here are the top 5 richest MLB players of all time
No matter what the players said at that time, their love-love relationship started going downhill as soon as Alex made that comment about Jeter.
Edited By: Rupak Kumar Jha