New York Yankees Icon Derek Jeter Recently Told His 6-Word Truth on Jay-Z's Polarizing 2009 Statement
Published 01/19/2023, 9:50 AM EST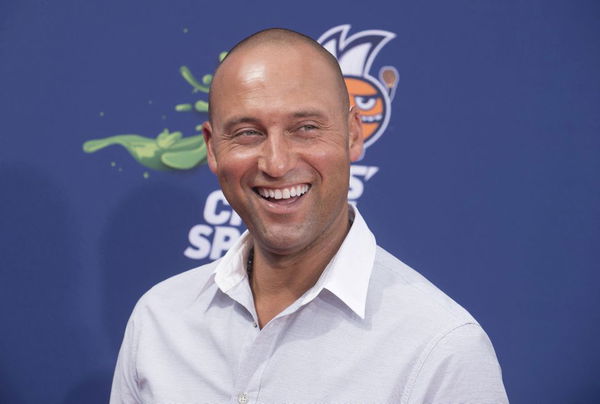 Captain Clutch Derek Jeter, in his lengthy career in the Bronx wearing pinstripes, has earned the trust and respect of many people living in or out of the Big Apple. Even though it's been over eight years since the former shortstop hung up his cleats, his fan following is still the same. Baseball fans still love the Hall of Famer for everything he did on the diamond and his impeccable personality.
Of all the people that love him, there are some big names in Hollywood who were present when the Captain smacked his last shot from the plate. Those people include one of the favorite rappers of the Hall of Famer, Jay-Z. Now, Jay-Z has a special connection to the Yankees. According to him, he has made the Yankees hat more famous than any other Yankee ever. Notably, the Captain himself had something to say about the rapper's famous Yankee hat comment. 
Did Derek Jeter like Jay-Z's comment?
ADVERTISEMENT
Article continues below this ad
Over the years, the former Yankee has done several interviews. In one such interview, he was asked about his top 5 rappers. Notably, Jay-Z was one of them. Both of them are fans of each other's work. The rapper is a long-time baseball fan, specifically of the Bronx Bombers. Therefore, he could be seen wearing a hat with the Yankees logo quite a few times. Hence, he once said, "I made the Yankee hat more famous than a Yankee can."
A few months ago, when Jeter sat down for an episode of Drink Champs' podcast, he was asked for his views on the famous statement by the rapper. And he just laughed and said, "I don't necessarily agree with that. I appreciate that, but I don't necessarily agree with that."
After having a great laugh for a couple more seconds, though he did not agree with Jay-Z's statement, he said that he indeed liked the line. 
ADVERTISEMENT
Article continues below this ad
Who are Jeter's top 5 rappers?
If anyone said that a person like Derek Jeter is only about baseball and nothing else, they would be wrong. Aside from baseball, the Captain has shown interest in various other things, like watching movies. He said earlier that he used to go in the afternoon when no one would be present.
Watch this story: From Babe Ruth to Derek Jeter: New York Yankees legend who's jersey number has been retired
ADVERTISEMENT
Article continues below this ad
While listing his top 5 rappers, apart from Jay-Z, he named 50 Cent, Mc Biggie, Eminem, and Diddy. The former shortstop did not leave out the rapper from his home town Michigan, Eminem. He also did not forget the rapper from the place he lived for over two decades, i.e. Big Apple's Diddy.
Can you list the favorite movies of the Yankees icon Derek Jeter? Tell us in the comments below, and we'll let you know if you got any one of them right!
Edited By: Abhishek Kumar