New York Yankees Manager Aaron Boone Reveals Record-Breaker Aaron Judge's Biggest 2022 Improvement and its Not His Hitting
Published 01/23/2023, 9:30 AM EST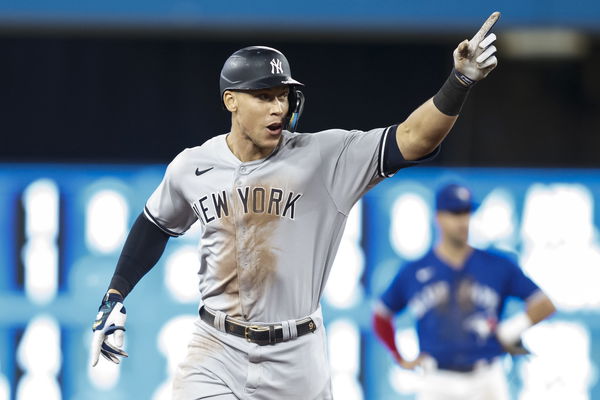 Aaron Judge stunned the baseball world last season with his record-breaking 62 home runs, cementing his status as a phenom of the ballpark. Notably, the 2022 MLB season was nothing short of magical for the Yankees slugger. Not only did Judge win the American League MVP, but Judge also went on to sign a 9-year extension for a whopping amount and the captaincy honor from the esteemed Pinstripes organization.
While many might be in awe of Judge's incredible achievements in 2022, the New York Yankees skipper Aaron Boone believes that the true measure of his improvement was in other areas of his game, beyond just mind-blowing home run numbers.
Manager Aaron Boone's surprising take on Aaron Judge
ADVERTISEMENT
Article continues below this ad
Aaron Judge's impact on the basepaths was something else entirely, believes manager Aaron Boone, according to NJ.com. Boone strongly highlighted the significant progress Judge made on the basepaths. Judge's baserunning marked improvement in the last season. It made Judge even more of a complete player than he already was.
"Last year I feel like he became a different guy on the basepaths," Boone said.
It is true that baseball is not just about hitting home runs it's also about being a well-rounded player, and Judge especially after donning the captaincy role of the Yankees has proven that he is one of the best in the league in all areas of the game. And his dedication to baseball and the Yankees are evident in the way he works tirelessly to improve in all areas of his game.
The 16th captain of the Yankees
Judge is not content with resting on his laurels after his historic season in 2022, according to his manager, Boone. He has a relentless hustle that pushes him to become the best athlete and a better captain every day.
ADVERTISEMENT
Article continues below this ad
The Yankees are well acquainted with Aaron Judge's relentless drive to improve, as he is known for dedicating himself to honing every aspect of his game. According to Boone, the drive for "greatness" is evident in everything that Judge does, and is not content with simply replicating his historically great season from last year.
As the 16th captain of the Yankees, Judge continues to exceed expectations. The reigning AL MVP is the embodiment of a true Yankee and his impact on the team extends far beyond his exceptional numbers on the field.
ADVERTISEMENT
Article continues below this ad
WATCH MORE: Is Aaron Judge's $360 Million Deal the Biggest New York Yankee Contract of All Time?
Knowing what kind of impact Judge had in 2022, do you think he will be able to replicate the same in the 2023 season?
Edited By: Abhishek Kumar