"That's Always Been My Argument": 30-Year-Old Aaron Judge Resists the Urge to Match NFL Icon Tom Brady Despite His Immense Talent
Published 03/19/2023, 9:51 AM EDT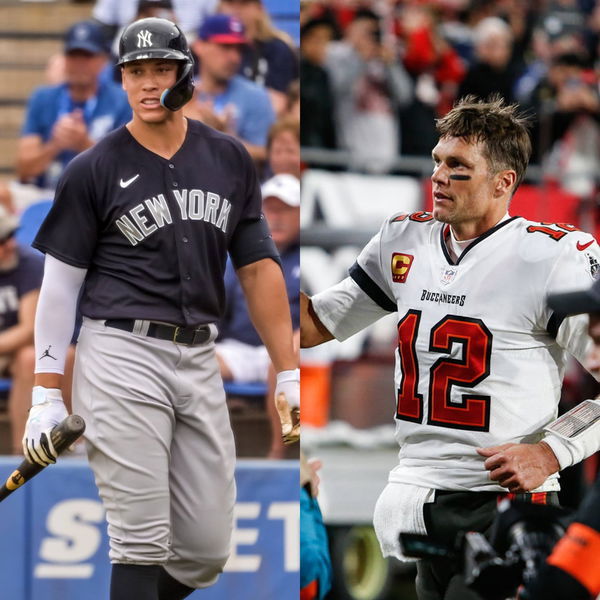 In the history of sports, countless athletes have come and gone. But only a few have left a legacy in their respective sports that the upcoming generations would follow. NFL legend Tom Brady is indeed one of them. One of the best quarterbacks in the history of the NFL, the seven-time Super Bowl champ Brady played well into his 40s. But does this mean that every athlete will have to follow in his footsteps? Well, the latest captain of the New York Yankees, Aaron Judge, is slightly confused about it. 
Recently, All Rise opened up in an interview with the New York Post about his confusion about playing in his 40s. Considering that the reigning AL MVP is turning 31 next month, he still has a good few years left in him. Even then, Judge is not sure if he'll be able to carry on Brady's legacy and play as well as he did even in his 40s.
Aaron Judge is taking one thing at a time!
ADVERTISEMENT
Article continues below this ad
Aaron Judge is coming off of his iconic season of 62 home runs, which has earned him a nine-year $360 million contract to stay in the Bronx. With this, he also filled the position of captain that's been sitting empty since Derek Jeter retired. Until now, he has shown immense talent in the ballparks but is unsure of matching the impeccable consistency of NFL icon Tom Brady.
In his interview with the Post, he said that with the way the game is continuously changing; it is glad to see players playing in the big league even after turning 40. Here is what Judge said on players playing post 40: "That's always been my argument. But it's all about putting in the work."
If the mighty captain of the Yankees continues to do what he is doing right now, he might as well play on the same level as the iconic NFL legend Tom Brady. 
ADVERTISEMENT
Article continues below this ad
MLB has many stars who followed in Brady's footsteps!
Aaron Judge's ability to play well in his 40s is still a good few years away. However, there are quite a few players who have played or are playing tremendously well in their 40s. One of those players would be now-retired Cardinals star, Albert Pujols. 
Watch this Story: Top 5 most electrifying home runs of the New York Yankees star Aaron Judge 
ADVERTISEMENT
Article continues below this ad
Pujols' iconic skills on the field and his 703 home runs won many hearts. He made history while playing his last season at the age of 42. And players like Justin Verlander at 40 and Max Scherzer in his late 30s still dominate the field. Therefore, it is no doubt that the two of them would follow in the footsteps of not only Brady but Pujols as well.
By the way, do you think Aaron Judge would be the same? Let us know in the comments below!
Edited By: Abhishek Kumar