Shortly After Retiring Yankee Legend Derek Jeter Enjoyed a "Guys' Night Out" With $85 Million Music Mogul
Published 01/21/2023, 9:30 AM EST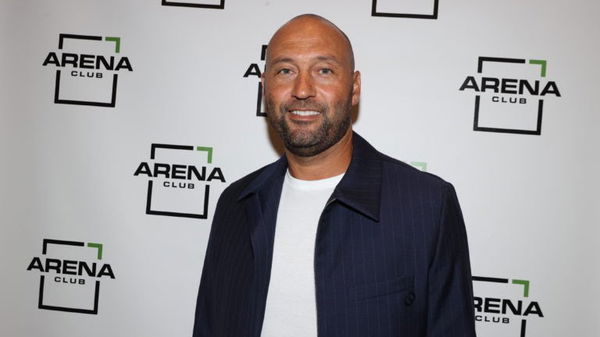 Over the course of his career, Derek Jeter built a reputation for being completely focused on winning baseball games. For Jeter, this meant that during the season, he would focus solely on improving his game without allowing any distractions. Furthermore, he stayed away from anything that might disturb his ability to focus on winning.
That is why the Yankee legend was rarely seen going crazy while partying. Although he did have fun, Jeter did so in moderation throughout his career. But after retiring, he became less strict about it. In fact, soon after his retirement, Jeter was spotted partying with a top rapper and producer.
Derek Jeter enjoyed a night out with Timbaland a few months after retiring
ADVERTISEMENT
Article continues below this ad
Derek Jeter played his last game for the Yankees on September 28th, 2014. Following this, the Yankee legend started doing the things he couldn't do while playing. In December of that year, he was spotted partying with Timbaland, the $85 million worth musician and producer. The two reportedly enjoyed a guys' night out together at a club in Miami. 
Per Page Six, "Derek Jeter and music producer Timbaland enjoyed a guys' night out at Hyde Beach lounge in Miami. The two were spotted at a large table in the back at 1 a.m. Monday. Their group ordered Don Julio 1942 and Grey Goose."
ADVERTISEMENT
Article continues below this ad
At the time, he and Hannah Davis were dating, but she was not at the gathering. Jeter reportedly had fun while out with Timbaland but didn't go overboard, a trait that he has displayed for years. In fact, Jeter once asked guests at a party he hosted to fulfill a bizarre request to maintain his privacy. The Yankee legend has always chosen to maintain a low profile while spending a night out on the town.
Why did Jeter always maintain a low profile while partying?
Throughout his career, Jeter maintained a low profile while partying. This was because he did not want to create a distraction for teammates and take the focus away from winning baseball games. 
ADVERTISEMENT
Article continues below this ad
Watch this story: From Babe Ruth to Derek Jeter: New York Yankees legend who's jersey number has been retired
Furthermore, he generally disliked drawing the media's attention to himself and preferred going unnoticed. The media would generally blow things out of proportion if he partied too hard, and he didn't want that. Do you think other athletes should also restrict them from partying and such activities, which may cause some distraction? Please share your thoughts in the comments below!
Edited By: Abhishek Kumar