'Shut the FU*K Up!'- Reds Outfielder Engages in Ugly Verbal Spat With Jeering Fan as Frustration Builds After 4–0 Defeat
Published 08/26/2022, 8:30 AM EDT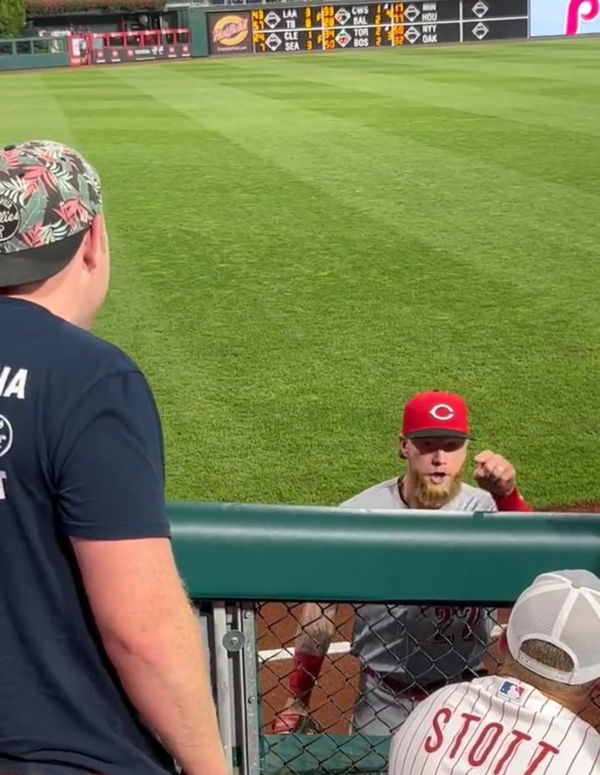 Players engaging in a spat with fans is a sight that people rarely get to see. But this is one of those rare incidents. Last night at Citizens Bank Park, Philadelphia Phillies played against the Cincinnati Reds. There Phillies' fans were booing the Reds outfielder Jake Fraley. However, in the fourth inning, Fraley lost his cool and got engaged in a verbal spat with one fan who was heckling him.
Fraley got traded to the Reds this season, from the Mariners in exchange for Eugenio Suarez and Jesse Winker. He also got placed on the injured list after suffering from a knee inflammation this May.
ADVERTISEMENT
Article continues below this ad
Did Jake Fraley really say, shut the fu*k up?
While all the shouting from the people, it was unclear what the fans and Fraley were saying.
But it did look like he said, "shut the fu*k up!" Apparently, it frustrated him enough. Either because of the play of his team's game. Or one of those fans said something that Jake couldn't control.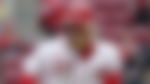 The real reason why Jake said what he did will be revealed only when Jake himself decides to let people know why he burst out. And it hasn't happened yet.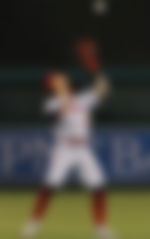 The exchange between the outfielder and the fans got itself on camera. And later on, the group of three fans who were taunting Fraley got themselves ejected from the match.
Did someone say something about Jake's family?
A Twitter user, Devine, also caught a part of the exchange on camera. And according to him, some people were indeed saying stuff about Jake's wife and kids. As a consequence, it might have provoked him to confront.
Some people saying the fans brought up Fraley's wife and kids. Personally didn't hear that but if they did, clearly not cool and gives Fraley the right to say something

— Chris Devine (@cdevine95) August 26, 2022
Few people also shared the reaction of a kid who was there during the exchange of words.
Some fans were in favor of Fraley. But others thought that he should have kept his cool. And that he should have ignored the mocking.
Good for Fraley. Fans can say whatever they want from behind the fence right? No need for video for players defending themselves in these scenarios. Hate one way videos like this to try and make the player look bad 👎🏼 be a fan, eat ur hot dog and drink ur beer and sit down

— GBG VEGAS (@gbgvegas2) August 26, 2022
I dont care, and dont know the guy, but Im on the players side. My least favorite part of sports is inane heckling. Like a "hey batter batter" great. Constant snipes, boring. Tell me you couldn't make the HS JV squad, without telling you you also have no true self worth

— Jeffrey Harmon (@pir8s_2eat) August 26, 2022
I think if fans talk crazy, players are allowed to square up. That fan is only talking like that because he knows he is protected….

— Tonay (@tonaaayyy_) August 26, 2022
The guys are doing the same thing in front of the kid. What's the difference + it's nothing he has never heard before

— Lets Go Mets Giants Knicks and Rangers (@metsrangers11) August 26, 2022
Furthermore, one of them wanted Fraley to grow up.
Jake is in the wrong here. You're a professional athlete. Ignore it. I'm sure a lot of players get heckled. Grow up. It's your job and you get paid to play baseball

— Brandon Keuning (@bkeuning23) August 26, 2022
Harper gets booed in every town he visits. Takes it like a champ and remains pro. Fraley should expect to get heckled playing for a 💩 team.

— 2️⃣2️⃣BullHorn🚀 (@22BigHorn) August 26, 2022
ADVERTISEMENT
Article continues below this ad
Last night Pujols hands a fan a jersey tonight we got Fraley handing out tongue lashings to a fan!

— B Myfe (@myfe214) August 26, 2022
ADVERTISEMENT
Article continues below this ad
No one knows whether Jake is going to come forward and explain what happened. And without proper information no one is on the wrong side of the story.
Watch this story: From Alex 'A-Rod' Rodriguez to Don Zimmer: Here's a quick look at the top wildest brawls of MLB history
Edited By: Simar Singh Wadhwa