Top MLB Prospect Adley Rutschman Triples in His Debut Appearance for the Baltimore Orioles; Camden Yards Goes Nuts
Published 05/22/2022, 12:46 AM EDT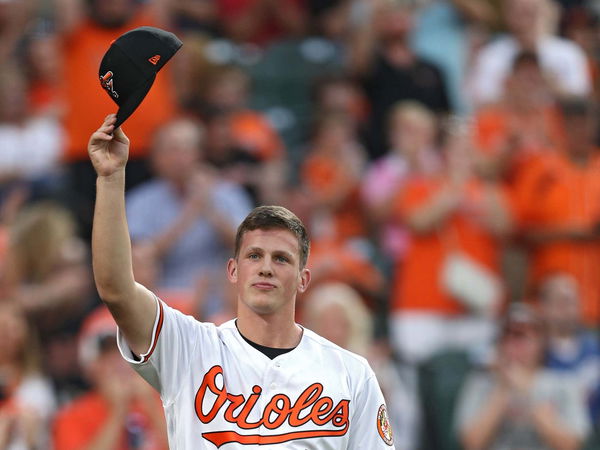 Top prospect Adley Rutschman made the most of his call-up to the majors after successfully tripling against the Tampa Bay Rays. Rutschman received a promotion from Triple-A just hours before he made his start and has validated the promise placed on him during his come-up.
CBS Sports ranked Rutschman as the number one prospect in the sport of baseball. This obviously meant his first at-bat would be looked at closely by fans and detractors alike.
ADVERTISEMENT
Article continues below this ad
Some believe Rutschman's debut was somewhat mismanaged as his call-up to the majors didn't come with the red carpet roll-out due to the short-notice nature of the affair.
The Orioles had almost three years to plan Adley Rutschman's debut.

Yet they announced his arrival at 8 am this morning, on the same day as the Preakness.

They got an announced crowd of 17,573 at Camden Yards tonight.

— Joe Trezza (@JoeTrezz) May 22, 2022
Adley Rutschman – a triple into the RF corner and Camden Yds going nuts. "Adley, Adley" chants.

— Steve Melewski (@masnSteve) May 22, 2022
As indicated in the aforementioned video, nearly 18,000 fans at Camden Yards gave Rutschman a warm reception and the O's catcher seems to have struck a chord with the fanbase.
Baltimore Orioles' Adley Rutschman shows out in his MLB debut
Rutschman's first notable grace with success came when he was rounding his way through the third base for a triple in the seventh inning of Ralph Garza Jr. Moreover, outfielder Brett Phillips slipped up during the collection of the ball and this would allow Adley Rutschman an opportunity to make an impact in his very first major play.
Rutschman would come to the plate on four more occasions and he was met with a standing ovation eight times, once before and once after each of his plate appearances. This goes to show the faith that O's fans have in Rutschman, who has left his mark on his debut.
ADVERTISEMENT
Article continues below this ad
Rutschman's mother, who was in attendance, was seen wearing the famed Orioles home run chain. Just another sign of a franchise player has a bright future with the organization.
Additionally, he has some massive shoes to fill since the last Baltimore Oriole to triple in his first MLB game was the imposing Manny Machado.
Matt wieters first hit- triple
Manny Machado first hit- triple
Adley rutschman first hit- triple

That's awesome

— Tim Barbalace (@TimBarbalace) May 22, 2022
ADVERTISEMENT
Article continues below this ad
In 82 plate appearances during his stint in the minors, the youngster hit .309/ .427/ .515 with three homers to boot. Heading into his Saturday night debut for the O's, he had recorded just three triples, and it's noteworthy that two of them came in the Triple-A last season.
Edited By: Vibhanshu Kumar