WATCH: Olympic Gold Medalist Simone Biles Once Pulled off the Most Flamboyant First Pitch at the World Series
Published 06/18/2022, 9:30 AM EDT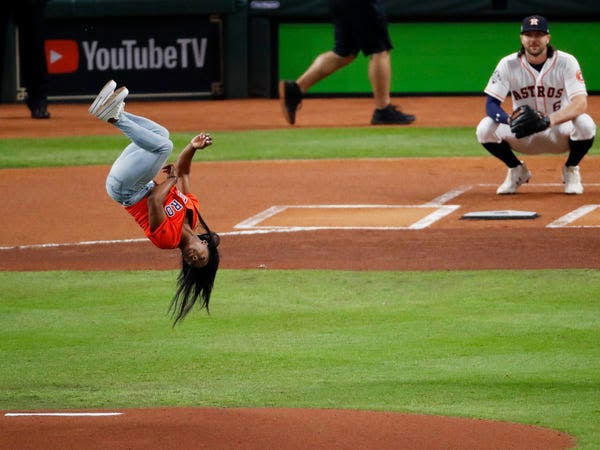 Simone Biles does not need any introduction. Often referred to as the GOAT, Biles is arguably the greatest gymnast of all time. With seven Olympic medals in her name, the American gymnast is a living legend of the game.
Many people might not know, but apart from being an elite gymnast, Biles has a soft corner for baseball. Yes! The gymnast legend is an ardent follower of Major League Baseball. To showcase her love for the game, once, she tossed the first pitch in a World Series game.
ADVERTISEMENT
Article continues below this ad
With over 25 medals at the World Artistic Gymnastics Championships, Biles is in a league of her own. Talking about her interest in baseball, she is a massive of the 2017 World Series champions, the Houston Astros. Everyone is well aware of her domination in gymnastics, but a few years back, Biles did something incredible in the ballpark and impressed fans with her phenomenal gesture.
Simone Biles hit an epic backflip before throwing the first pitch
Even though Simone Biles loves to cheer on her favorite team in Major League Baseball. Gymnastics will remain her first love. The incident dates back to 2019 when the Houston Astros were playing against the Washington Nationals in the World Series.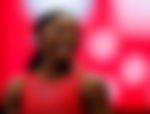 During Game 2 of the 2019 World Series, Simone Biles did the ceremonial first pitch. Generally, when a guest throws the first pitch, they do it very casually. But Biles had some fun ideas in her mind. 
Before throwing the first pitch, she did an incredible backflip in front of thousands of audience. And then she did the honor of throwing the first pitch of the game. Although these backflips are not surprising for her, pulling it in a ballpark need guts. And she did it in style.
ADVERTISEMENT
Article continues below this ad
The video of the same is still available on YouTube. One can watch her stunning backflip wearing an Astros jersey. Notably, she is a die-hard fan of the Astros.
Did the Astros win the 2019 Word Series?
Under the guidance of visionary manager, A. J. Hinch, the Astros, put up a good fight against the Washington Nationals. But the Dave Martinez-led team defeated the Astros in the seventh game to clinch the prestigious title.
ADVERTISEMENT
Article continues below this ad
WATCH THIS STORY: ST. Louis Cardinals Top 5 Moments In MLB Postseasons
After winning their first World Series title in the 2017 season, the Astros are yet to win the trophy again. They have been twice more to the World Series, though. What are your opinions on the Astors making it to the World Series this season?