WATCH: Cardinals Legend Albert Pujols Changes a Kid's Life With Moving Gesture as He Enters Final Leg of Illustrious Career
Published 08/25/2022, 9:00 AM EDT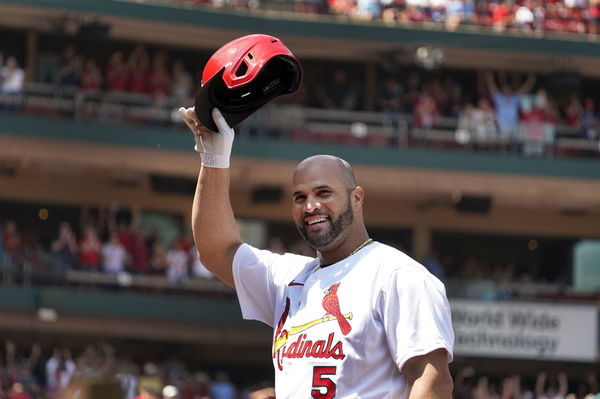 Albert Pujols, aka The Machine, is one of the greatest, most prominent, and loved Major League Baseball players. After making his debut in 2001, he spent ten years with the St. Louis Cardinals, another nine with the LA Angels, moved to the Dodgers for a year, and finally returned to the Cardinals for his last year in the MLB.
In his long and fruitful 21-year-long career, Pujols has won multiple awards. Albert Pujols has done everything from winning Rookie of the Year in his debut 2001 season to appearing in 11 All-Star teams and winning 2 World Championships and 3 NL MVP awards. He's also maintained a consistent batting average at 0.297.
ADVERTISEMENT
Article continues below this ad
Albert Pujols winning hearts
St. Louis Cardinals are currently playing a 5 match series against the Chicago Cubs. The Cubs leveled the series at 2-2 after defeating the Cardinals 7-1 in game four. During the game, The Machine obliged a kid's poster demand and, naturally, made his day.
As we can see in the tweet above, Albert Pujols approached the kid, took off his jersey, and slid it under the net. The kid, like anyone else, was pleasantly surprised. Moreover, the situation allowed confusion to take over his head and was wondering whether he should exchange jerseys. Markedly, the poster in the kid's hand said, "Albert can we trade jerseys? Go Cardinals!!!"
Moments like these contribute to a player generating an ever-lasting fandom. The 42-year-old started his career as a Cardinal. Analogous to that, he believed that it was only fitting if he returned to them for the last season of his career.
Will Pujols beat A-Rod's record and cross 700 homers?
ADVERTISEMENT
Article continues below this ad
Albert Pujols is simply full of class. He is currently standing with 693 homers. He's currently at the 5th position in the list of maximum career-wide home runs, three behind A-Rod. As Pujols approaches the final few games of his career, his chase of 700 homers gets even more intense. In an interview with USA Sports, while discussing his number of home runs and upcoming retirement, he said, "I'm still going to retire, no matter whether I end up hitting 693, 696, 700, whatever. I don't get caught up in numbers. If you were going to tell me 22 years ago that I would be this close, I would have told you that you're freakin' crazy. My career has been amazing.''
Finally, Albert Pujols' love for the sport has made him a fan favorite. Moreover, the Cardinals are topping the NL Central Division, complementing his upcoming retirement. Will Pujols get his well-deserved goodbye with a World Series Championship victory?
ADVERTISEMENT
Article continues below this ad
WATCH THIS STORY: ST.Louis Cardinals Top 5 Moments In MLB Postseasons
Edited By: Simar Singh Wadhwa