WATCH: Two-Way Phenom Shohei Ohtani Shows Why He Could Bag $500 Million Next Year With an Intense Workout
Published 01/23/2023, 8:18 AM EST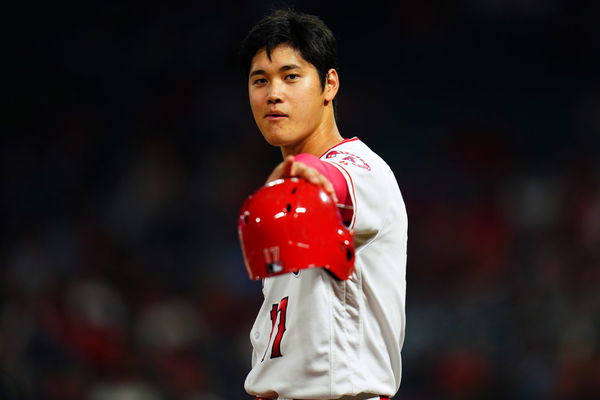 Shohei Ohtani, the two-way sensation, has an electrifying play style that leaves the crowds in a daze. But his outstanding plays on the field didn't just appear one day out of nowhere. It was his grit and determination that brought him where he is today. 
Ohtani or Showtime is a true spectacle in the ballparks. With a relentless training regimen that focuses on both pitching and hitting, he continually raises the bar for what it means to be a two-way player. As spring training approaches, Ohtani is already putting in the hard work to perfect his already extraordinary skills and give fans, even more, to marvel at on game day.
The 2023 season has officially started for Ohtani
ADVERTISEMENT
Article continues below this ad
Shohei Ohtani, the Angels superstar, has a relentless training regimen that has made him a baseball phenom, and it's clear that he's not done yet. Recently spotted in a gym squatting weights that weigh quite a few pounds, Ohtani's 2023 season is officially underway.
But what sets Ohtani apart from the rest? It's his burning desire to be the best in the world. This is evident in the way he trains, as attested by former teammate Alex Cobb. In a tweet from a few years ago, media personality Andrew Baggarly quotes Cobb as saying, "When he trains, he wants to beat the world record. That's not exaggerating. He'll ask 'What's the world record?'" 
READ MORE: Baseball Insider Makes His Bold Prediction for Two-Way Star Shohei Ohtani's Upcoming Free Agency Post the 2023 Season
Ohtani's determination to be the best is not 'just talk,' it's evident in the way he approaches his training and the results speak for themselves. It's not hard to see why he is considered one of the best players in baseball today.
ADVERTISEMENT
Article continues below this ad
Rumors of Ohtani getting a $500 million deal 
He is also one of the most sought-after players in the league, with rumors swirling of a potential $500 million deal from the clubs eager to secure his services after he becomes a free agent next year. As a two-way player, able to excel at both pitching and hitting, signing Ohtani would be like getting two players for the position of one.
But before any deals can be made, Ohtani must first prove himself in the upcoming season with the Angels. And with the 2023 season coming, the Japanese slugger is already pushing himself to become an even better player than he already is.
ADVERTISEMENT
Article continues below this ad
WATCH THIS STORY: Japanese two-way baseball star Shohei Ohtani hits 100th Major League homer
By the way, do you think the 2021 AL MVP will be able to land a deal worth around $500 million in his free agency? Tell us in the comments section below!
Edited By: Abhishek Kumar