"What $360 Million Does to a Man"- Bizarre Aaron Judge Impostor Triggers Fans to Talk About Strange Dominican League Sighting
Published 01/19/2023, 12:50 PM EST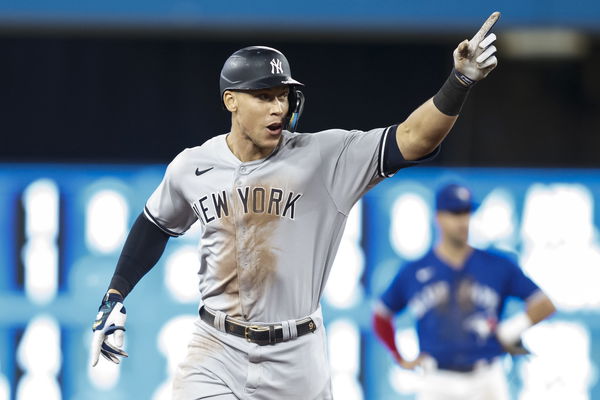 As one of the most recognizable faces in baseball, Aaron Judge and his every move are closely watched by the passionate fans of the New York Yankees. Therefore, every little sighting of him sends a ripple through the Yankees' nation.
Could it be that the "Judge" of the Bronx was taking in some winter ball action? Or was it an uncanny coincidence? It wasn't actually the Yankee himself, but a man bearing a striking resemblance to the All-Star outfielder that was spotted in the stands of a Dominican Republic league game and it sent the Yankees Nation into a frenzy.
Aaron Judge's impostor in the Dominican republic!
ADVERTISEMENT
Article continues below this ad
As the real Aaron Judge is known for his fan-friendly nature and willingness to interact with supporters, it seems that his look-alike is following in his footsteps.
Recently spotted in a Dominican League baseball game, this imposter not only bore a striking resemblance to the New York Yankees star but was also seen mingling with fans and even wearing Judge's iconic number 99 jersey. 
REAR MORE: New York Yankees' Latest Captain Aaron Judge on if He Actually Became a Judge: "I'm Big on Second Chances"
A Yankees fan page posted the video, with the caption, "Love to see Aaron Judge making time for the fans."
A cheeky fan commented, "What $360M does to a man."
Another fan replied with a gif of the iconic, "Oh Captain! My Captain" scene. 
Is he playing for licey or estrella oriental?

— ElysianField (@ElysianFieldTwo) January 19, 2023
ADVERTISEMENT
Article continues below this ad
The rest of the replies were comparing the impostor with other people. While others couldn't resist making jokes, with one quipping that the man in question was more of an "Ars*n" Judge than the real Aaron Judge. Another reply wondered if 'Aaron' was playing for the Tigres del Licey or Estrella Orientales of the Dominican Professional Baseball League.
Where actually is Aaron Judge currently? 
According to FanSided, Aaron Judge was recently sighted(this time it was actually him), at the team's spring training home in Tampa. He was spotted doing his captain's duties and taking his time to personally welcome and mentor the next generation of prospective stars, Osiel Rodriguez and Felix Negueis. His presence there was proof of his unwavering dedication to the team. 
ADVERTISEMENT
Article continues below this ad
Judge is a motivated athlete, and his love for baseball is apparent. Let's see what the 2023 season has in store for the legendary Yankee. 
WATCH THIS STORY:  Is Aaron Judge's $360 Million Deal the Biggest New York Yankee Contract of All Time?
Edited By: Abhishek Kumar