"(When) Alex Does It, He Just You Know, Disrespected the Game" Says Don La Greca as Biased Yankee Fans Pick Derek Jeter Over Alex 'A-Rod' Rodriguez Ignoring Achievements and Numbers
Published 08/28/2022, 1:30 PM EDT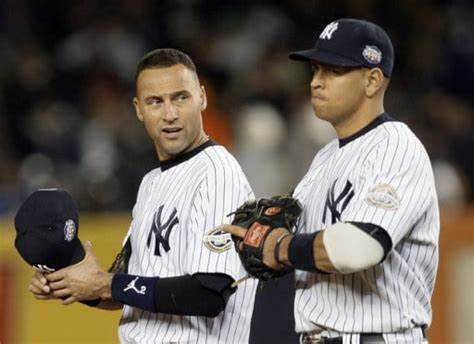 There is absolutely no question about Alex 'A-Rod' Rodriguez and his success in the ballpark. In his 22-year career, A-Rod represented 3 teams. He debuted with the Seattle Mariners followed by the Texas Rangers. Finally, his most successful outing was with the New York Yankees. In 2009, he also won the World Championship with the Yanks. During his long and lucrative career, A-Rod appeared in 14 All-Star teams and won three AL MVP awards and ten Silver Slugger awards.
A-Rod's biggest competition was captain and legend, Derek Jeter. Markedly, Derek Jeter was added to the MLB Hall of Fame in his first year of eligibility with 99.75% (396 out of 397 votes). Moreover, in 2017, the Yankees retired Jeter's jersey number 2 as well. During The Michael Kay Show, Don and Peter receive a caller who proposes and asks the much-awaited question, "Should the Yankees retire A-Rod's jersey number 13?"
ADVERTISEMENT
Article continues below this ad
Should the Yanks retire Alex 'A-Rod' Rodriguez's jersey number?
Despite all of A-Rod's achievements, his PED scandals often trumped his success. It labeled him as a cheater and, all in all, put him in an unpleasant light amongst his fans and the Yankee management. Because of this same reason, A-Rod never made it to the MLB Hall of Fame or the Monument Park.
Don and Peter debate the possibility of A-Rod's jersey ever being retired, along with the indirect double standards of fans. Don spoke about fans negatively remembering A-Rod for knocking the ball out of Bronson Roy and "Screaming 'HA' to get somebody to drop a pop fly." However, when Jeter jogged to first base despite not being hit by a pitch, fans said, "All Jeter wants to do is win. He's trying to get the edge." But, when Alex did it, "He just, you know, disrespected the game."
Don continues to talk about MLB moving on from the PED days and speaking about the fans doing the same. He said, "But I think over time, the people that didn't embrace A-Rod, that didn't love A-Rod when he's here, that might have changed over time. Clearly, MLB has forgiven him. He's in commercials, he's working for Fox, he's working for ESPN, calling baseball games."
He concluded by saying, "I can't speak for the Yankee fan base. But if the Yankee fans want his number 13 retired, they shouldn't feel guilty about that."
ADVERTISEMENT
Article continues below this ad
Who is the greatest modern-day Yankee of all time?
When talking about the greatest modern-day Yankee, two names come to mind. Alex 'A-Rod' Rodriguez and Derek Jeter. While one is number 4 in the list of most MLB homers, the other is a Hall of Fame member. While one has his own documentary series made by an Emmy award winner, the other runs his own podcast during the World Series. However, while Jeter was probably the most influential and inspiring captain of the Yankees, A-Rod was involved in two PED scandals.
ADVERTISEMENT
Article continues below this ad
Both these absolute legends have their pros and cons. Who is your favorite? Jeter or A-Rod?
WATCH THIS STORY: From Alex Rodriguez To Derek Jeter: Here Are The Top-5 Richest MLB Players Of All Time
Edited By: Vibhanshu Kumar