"When Did I Become a Writer?"- Cameron Diaz Once Challenged a Bizarre Hollywood Rumor on Then-Boyfriend Alex Rodriguez
Published 01/19/2023, 8:30 AM EST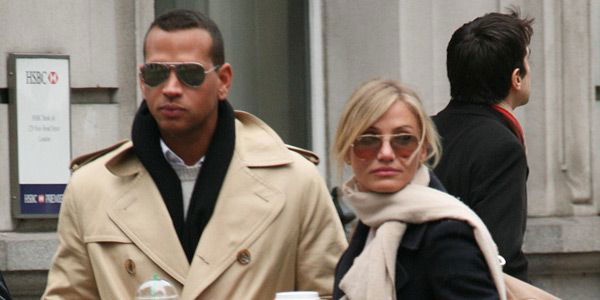 In his twenty-two-year career in Major League Baseball, baseball icon Alex Rodriguez played for three different teams, primarily for the New York Yankees. As his career progressed on the diamond, his personal life was taking some big turns. A year before winning his first and only World Series ring, in 2009, the former Yankee got separated from his ex-wife Cynthia Scurtis. The reason behind the separation wasn't simple either. Multiple rumors surrounded him of cheating with the singer Madonna. Since then, he has dated quite a few women. Most of whom are no new to fame. 
With such ups and downs in his life, professionally and personally, one would say that a movie about his life would garner great appreciation. But is it true? More than a decade ago, rumors came up that said A-Rod's then-girlfriend, Hollywood's Cameron Diaz, was about to make a movie with the former Yankee starring in it as himself. Sadly, the Charlie's Angels actress evidently denied anything like that happening.
Alex Rodriguez starring in a movie: a failed venture?
ADVERTISEMENT
Article continues below this ad
Yankees superstar Alex Rodriguez, who isn't known to be shy of the camera, was supposedly going to start his screen test in the summer of 2011. He was apparently going to star not in an autobiography but in a rom-com surrounding baseball. His co-star was supposed to be his then-girlfriend, Cameron Diaz. The actress was also going to be the creator of the movie.
But when Extra TV caught up with the actress on the rumors going around, to baseball fans' dismay, she denied each of them. While laughing, she said, "I don't know where these things come from. It's absolutely not true. I don't write. Wow, when did I become a writer?"
Although the rumors turned out to be a hoax, the fans would have loved seeing the baseball star taking some time out of his busy schedule to appear on the big screen. Therefore, it can be said that up until now, A-Rod starring in a movie was a failed venture. 
ADVERTISEMENT
Article continues below this ad
Rodriguez hasn't left the small screen yet!
Anyone who knows the former Yankee knows he might have left playing baseball a good seven years ago, but he hasn't left the game entirely. To stay connected to the game, he tried to buy the MLB team, New York Mets. Even after it failed, he still did not leave the game.
Watch this story: From Jennifer Lopez to Cameron Diaz: Top 5 big names Alex Rodriguez dated with 
ADVERTISEMENT
Article continues below this ad
Either working as an analyst or a reporter, A-Rod finds a way to stay connected to the game. And also to show his face on the small screen, the television. 
When did you last watch A-Rod on a show? Let us know in the comments below!
Edited By: Abhishek Kumar