When Supermodel Kate Upton Disparaged MLB for Denying Husband Justin Verlander the CY Young Award
Published 06/16/2022, 9:15 AM EDT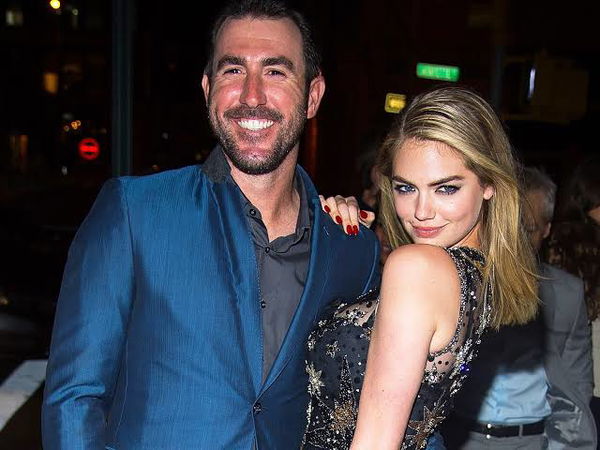 Justin Verlander is arguably one of the top pitchers to take the mound in MLB. Now plying his trade for the Houston Astros, Verlander made a name for himself when he was with the Detroit Tigers and was pumping rockets in a rotation with Scherzer on the roster too.
However, despite his continued excellence, there were still years when Verlander failed to receive the recognition he deserved. And his partner, Kate Upton, was upset enough to even tweet about it.
ADVERTISEMENT
Article continues below this ad
Justin Verlander had turned in a worldie of a season. And while many writers on the Cy Young Ballot seemed to agree with them, there were enough writers to deny Verlander the achievement. However, his partner, Kate Upton, made her displeasure known through her tweets. while she may have misplaced a few details, the sentiments carried through the league. Verlander lost out to Boston Red Sox pitcher, Rick Porcello by a slim margin, and Upton was not happy at all.
Kate Upton Steps up to call out MLB for Justin Verlander's snub
The Detroit Tigers' fans were unhappy. But it was Upton who made her displeasure known. Calling out the Baseball Writer's Association of America and the voting writers, Upton went ballistic. Wrote Upton, "I thought I was the only person allowed to f*** Justin Verlander?! What 2 writers didn't have him on their ballot?"
And while arguably biased towards his side, she got a few details wrong. Add to that, Verlander only lost by a slim margin that year. Coming in second by only five points.
Sorry Rick but you didn't get any 1st place votes? you didn't win. #ByeFelicia @MLB keep up with the times and fire those writers

— Kate Upton (@KateUpton) November 16, 2016
Upton, however, moved around the details a bit. Rick Porcello had received 8 first-place votes to Verlander's 14. Where he beat Verlander to the prize was in 2nd place votes. In this tally, Porcello received 18 votes, and, as accurately noted by Upton, 2 writers did not feature Verlander on their ballot. Eventually, this led to Verlander missing out.
Was Verlander left out?
Further, Justin Verlander had a monster season in 2016. Leading the league in several tallies across the season, it was a surprise to many when he didn't lift the Cy Young trophy in the post-season awards. His younger brother Ben Verlander even shared a graphic comparing him with other contenders on the ballot.
ADVERTISEMENT
Article continues below this ad
The tally reflected Verlander was by far the dominant pitcher. Leading in eight of the twelve statistics considered, Verlander was easily a shoo-in if people went only by numbers. However, because of the subjectivity in the voting categories, Porcello took home the award that year.
ADVERTISEMENT
Article continues below this ad
Watch This Story: Alex 'A-Rod' Rodriguez's Biggest Investment That Set Up His Business Empire
But what do you think? Was Upton's anger well-founded? Or do you think that Porcello genuinely deserved the award that year?