"Who is Going to Turn Down a Uniform From the Yankees"- Aaron Judge on Settling For His #99 Jersey Despite His Real Preferences
Published 01/18/2023, 2:30 PM EST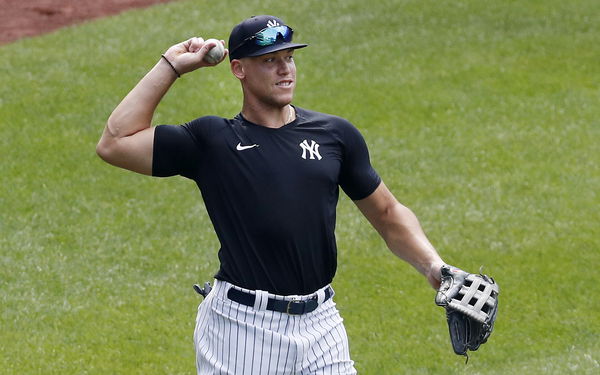 Aaron Judge is a star in the MLB today and one of the biggest names in the League. He has earned a reputation for being extremely competitive and doing his best to win. Furthermore, many consider him a role model due to his focus on baseball and the absence of scandals around him.
Judge is also extremely loyal as a player and does his best for the Yankees. All of these factors have led to Judge's #99 jersey becoming one of the most popular among fans. But the Yankee's star outfielder once opened up on jersey numbers and said that they don't matter to him.
Aaron Judge didn't care what jersey number he got, he just wanted to play for the Yankees
ADVERTISEMENT
Article continues below this ad
In a 2017 interview with David Brown of Baseball Prospectus, Judge opened up on his jersey number. The Yankees captain wears the highest number in baseball history. Brown asked Judge if he'd go higher if the MLB allowed it and what number he'd pick. In response, the Yankee outfielder said that he'd have stuck with whatever number they gave him and that he didn't particularly care. Judge only wanted to play for the Yankees, that was the only thing on his mind.
According to Baseball Prospectus, Judge said, "I'd still probably go with whatever number they gave me. Just like I did when the Yankees gave me 99 and I stuck with it." He further mentioned that the numbers 44,35 and 7 were also special to him, but he couldn't wear them because they are already retired. The #44 for Reggie Jackson, #7 for Mickey Mantle, and the #35 for Michael Pineda. Judge then said, "But they gave me 99, and who is going to turn down a uniform from the Yankees, you know?" 
ADVERTISEMENT
Article continues below this ad
From day 1 of his career, all that Judge has wanted was to be able to play for the Yankees. Over the years since this interview in 2017, Judge has built a name for himself in New York. He has distinguished himself with his fantastic play and leadership ability. The Yankees recently signed him to a 9-year $360 million extension and gave him a very special honor.
The New York Yankees named Judge their next Captain
That's right! The Yankees have given Judge the honor of being their next captain. The announcement came during the press conference to make his new deal official. This will cement Judge's place among the Yankee's greats and allow him to build a legacy with the team.
ADVERTISEMENT
Article continues below this ad
Watch this story: From Aaron Judge to Rafael Devers: Ranking the biggest 2022 MLB off-season deals so far
The New York-based team now has to put talent around Judge so they can win a title. If all goes well, his #99 jersey will end up being retired. What do you think of Aaron Judge's comments on his jersey number? Please share your thoughts in the comments below!
Edited By: Abhishek Kumar