Yankees Legend Alex Rodriguez Once Took a Home Run Masterclass From Ex-Dodgers MVP Cody Bellinger
Published 12/17/2022, 12:00 PM EST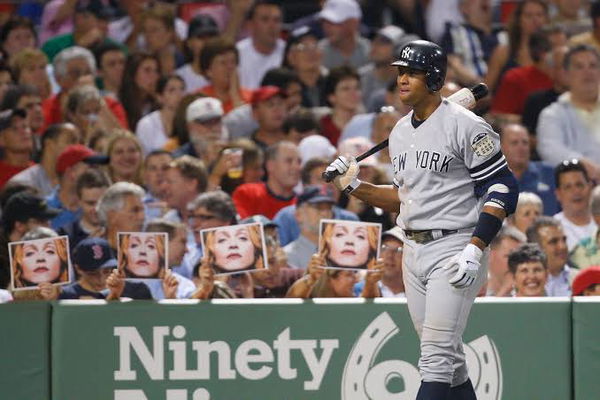 Alex Rodriguez is one of the biggest hitters the MLB has ever seen. With 696 career home runs to his name, A-Rod was a master at hitting the ball out of the park and would regularly crush the pitcher's spirit by launching the ball out of the stadium.
But even a talented slugger like A-Rod wants to learn more about hitting the ball. And the former Yankee did just that when he asked an ex-Dodger what his secret was to hitting home runs.
ADVERTISEMENT
Article continues below this ad
For those unaware, in 2019, Alex Rodriguez asked Cody Bellinger, the NL MVP that year, his secret to hitting so many home runs. At the time, Bellinger was with the Los Angeles Dodgers and was one of the best hitters in the League. So it makes sense that A-Rod wanted to know his secrets.
Alex Rodriguez asked Bellinger how he was hitting so many home runs
Halfway through the 2019 MLB season, A-Rod sat down for an interview with Cody Bellinger. Rodriguez mentioned that the then-Dodgers outfielder had only hit 1 home run in High School. But in the big leagues, he was hitting home runs almost every night. Rodriguez then asked the outfielder the secret to his success.
A-rod asked, "What has changed from Cody in high school with 1 home run to the guy that's hitting home runs it feels like every night?"
The then-Dodger answered saying that he didn't know how to hit home runs in high school. And that it was all about growing into his body. Bellinger said "The biggest thing for me was growing into my body a little bit. But then just understanding, like where I need to be with myself every day. And my stance to just allow me to hit the baseball as consistent as I can."
ADVERTISEMENT
Article continues below this ad
Notably, Bellinger finished the 2019 season with a career-high 47 home runs. He had the second-highest number of home runs in the entire MLB that year.
Bellinger was named NL MVP in 2019:
As a result of his phenomenal overall performance, Cody Bellinger was named NL MVP in 2019. Furthermore, he also picked up the Silver Slugger award and the Gold Glove award. While also being named to the inaugural All-MLB First Team.
ADVERTISEMENT
Article continues below this ad
Watch This Story: From Derek Jeter to Alex Rodriguez: Ranking the richest New York Yankees contracts of all-time
2019 was the outfielder's best season and has put him in a very special class of players. His slugging that year was a sight to see. Knowing that A-Rod was already a monster from the plate, do you think he needed any advice from Bellinger? Share your thoughts in the comments below.
Edited By: Abhishek Kumar