MLS the league for a 'new America', says Garber
Published 12/04/2015, 10:46 AM EST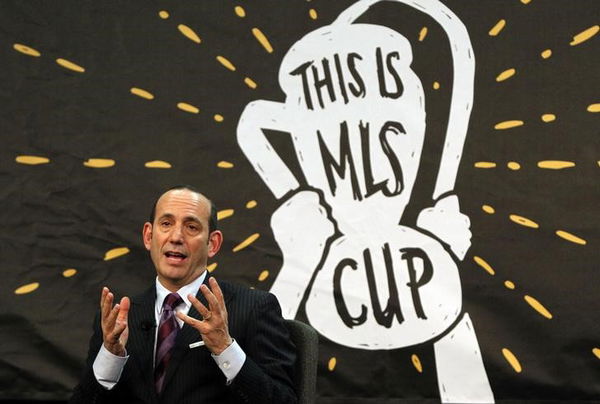 ---
---
By Rick Horrow
ADVERTISEMENT
Article continues below this ad
NEW YORK (Reuters) – Major League Soccer has positioned itself as the sport's league for "a new America" and will soon be recognised as one of the best in the world, a bullish commissioner Don Garber told Reuters.
With the Columbus Crew set to host the Portland Timbers on Sunday in what will be the 20th MLS Cup, Garber painted a bright picture for a league that has gone from being a sporting niche to the mainstream in two decades.
ADVERTISEMENT
Article continues below this ad
"We've been around for a generation; the brand is very simple. We are the league for a new America," Garber boasted. "A country that is changing, that has become increasing global.
"It has shifting demographics that has our nation looking like, acting like, we are a country represented by every country from around the world. The league for a new America — that's our brand."
When Garber left his position as senior vice-president of the National Football League to take over as MLS commissioner in 1999, the league was on a shaky financial footing.
After the contraction of the Miami Fusion and Tampa Bay Mutiny, MLS was left with just 10 teams. Under Garber's watch, however, the league has grown to 20 teams with deep pocketed investors lining up to get in on the action.
The MLS has gained worldwide respectability, developing homegrown talent through local academies while attracting some of the game's biggest names — David Beckham, Frank Lampard, Didier Drogba and Steven Gerrard to name a few.
"When I first came into the league in 1999 … there was a time we couldn't give our teams away," recalled Garber. "When the league was founded, there was this idea you could build a league around all those tens of millions of kids that play, but that ultimately is not really where our fan base is today.
"It's all those kids who grew up playing that now are millennials and consumers, that are influencers driving purchase decisions, that are politicians and CEOs of companies, and they all came out of that movement and are now the core of our fan base.
"We did research that showed the football fan in this country wanted to see the David Beckhams of the world and the Frank Lampards, we were able to create a mechanism — the franchise player, or the 'David Beckham rule' that allows us to sign those players in a way that still fits within the system."
In 2014, MLS announced a landmark television rights deal, signing an eight-year agreement worth a reported $720 million with ESPN, FOX Sports and Univision Deportes to a Match of the Week on all three networks.
That was followed by broadcast deals last year with Eurosport and Sky Sports as the league builds an international footprint which it hopes to fill in with international matches and merchandising and sponsorship programmes.
Soccer-specific stadiums have enhanced the game experience for fans, helping push attendance to new highs.
GETTING DUE RESPECT
Despite this robust growth, it is not enough for the man known as the "Football Don" with Garber convinced that his league does not get the respect or attention it deserves from North American media.
"I think we deserve more attention than we get," said Garber.
"I can't complain because we have come a long way but I do believe that some of the decision makers that determine influence are of a generation that perhaps haven't grown up with the game and don't see the value of the game and therefore don't give the league the attention it deserves.
"You always want more, you always believe it is deserved."
While the pace may not be fast enough, Garber remains convinced that eventually MLS will be recognised at home and abroad as one of the best leagues in the world.
According to Garber, MLS is the second most popular league among millennials in North America after the National Football League.
But MLS is not in competition with the NFL, Major League Baseball, the National Hockey League or the National Basketball Association.
ADVERTISEMENT
Article continues below this ad
MLS research claims there are 64 million football fans in the United States but not all are MLS fans, and those are the consumers being targeted by the league.
"I think it is important to recognise where you are and have a realistic view of where you fit in against your competitors but still aspire to be as good as they are," explained Garber. "Our goal is to be one of the top football leagues in the world.
"But we recognise we are not there yet and we think that is a smart approach because if you try to be something you're not too fast, you won't get there. And if you push yourself to try to get there, then you never will.
ADVERTISEMENT
Article continues below this ad
"Overall, the international football community believes in MLS in many ways as being higher quality than perhaps some of the football folks here in America do because, in reality, it is getting pretty darn good."
(Writing by Steve Keating in Toronto; Editing by Mark Lamport-Stokes)