EXCLUSIVE: PFL CEO Peter Murray Opens up About 2021 Season and More
Published 09/28/2020, 6:42 AM EDT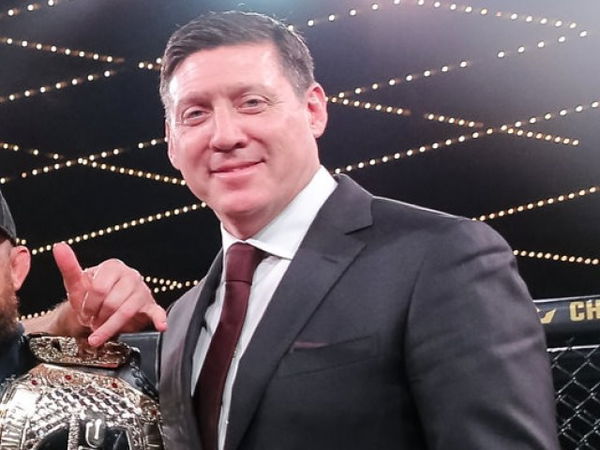 Professional Fighters League (PFL) has been the flag-bearer of new-school MMA since its inception in 2018. It brought a lot of new elements on board for the fight fans, citing a new experience of premium MMA.
ADVERTISEMENT
Article continues below this ad
It is just two-seasons old and has already garnered global attention with a packed roster of MMA elites. Meanwhile, the organization has drafted several new things for their future, citing brand new MMA experience for the fight fans.
Recently, PFL CEO Peter Murray connected with EssentiallySports to discuss his much-awaited ventures, including high-profile technology and easy fan access.
ADVERTISEMENT
Article continues below this ad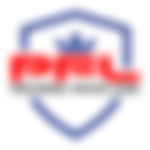 Peter Murray has some interesting ideas in mind.
Peter Murray: Good morning guys.
ES: Good morning, good morning.
Peter: So I can't join the video here.
ES: Ok, ok, that's not an issue.
Peter: I am in Madison Square Park, New York City.
ES: Okay, that's great to hear. So Shall we begin?
Peter: Let's do it.
ES: Let's do it. Hello everyone, welcome to today's interactive session. EssentiallySports is privileged to be joined by one of the most influential men of the modern-day MMA scenario. I don't think he needs any further introduction. Peter Murray, thank you so much for taking out some time and joining with us. How are you?
Peter: Okay, so kind. Nice to be with you.
ES: So how are the things going with you all around, like with the COVID- stuff going around and how are things right now?
Peter: Well, I think, as you know, we rescheduled our season from earlier this spring to next spring in 2021 — and the PFL. We are locked and loaded. We start early spring in April. Our roster is fully set, our broadcast agreements in the US in ESPN and multiple international media partners outside the United States will have expansive, more expansive coverage. 160 countries. So we are really ready to go and we have been focussed on enhancing the product and this is really two ways we have been doing that and that's technology, we are excited to roll out beyond punch speed, which last year, we were the first organization in MMA to ever and every fighter proprietary, technology, measuring punch speed in every fight. And next year, we are going to roll out kick speed. So that will be an exciting new offering and innovation coming from the PFL. And in addition to that, we will have couple of select starfighters signing for next year that we are excited about.
ES: Definitely, I mean, even though PFL 2020 season did not take place. PFL have been actively busy with so many things going around and free OTT platform is something that is going to happen soon and considering the fact that PFL has always brought something new to the platter since the first season. How did this idea of launching a free OTT platform come up to your mind? I mean that is something really new to the fans and fans have loved the idea.
Peter: Well, there's 450 million fans around the world. They have desired for more quality MMA content, and so we are excited to fulfill their demand and provide true access to the PFL's full fight archive, which is our last two seasons, every fight, all full fights in addition to World Series of Fighting. On top of that, original content that PFL studios produces. So we have over 400 hours of content that fans can binge on when they are looking for a sports content and next year what we are really excited about with respect to OTT is going direct with live fights. So that will be the next phase and more to come on that.
ES: Fans are really excited about it, and a lot of media researchers have also said that this is something really new. Now they have also started to believe, a lot of people believe that fan-attendance can be a valid thing by the time this year ends. This is not yet an official notion but still, a lot of people feel that with eased out lockdowns and all, fans can be a part of the arena soon. Do you feel that PFL 2021 season can take place amid fans or do you see that happening behind the closed doors?
Peter: Well we certainly hope so but we are gonna make sure that the way we plan our events which will be leading in on Metric TV to ensure the PFL executes its season and as the landscape changed and it is deemed safe here in the United States where we expect to execute these events next year. We certainly will open it up to fans, but not unless it's absolutely safe. We obviously will have new protocols in place for our athletes — testings, screenings to ensure their safety.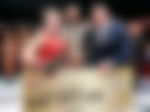 ADVERTISEMENT
Article continues below this ad
ES: Now it is great to hear that you are prioritizing people's safety in the first place. I mean when the COVID stuff broke out, a lot of sports events, a lot of sports promotions they went into a halt but with time they did resume with their action. And even though they did, it wasn't in their primary form. A lot of things were missing, a lot of fighters, a lot of players were tested positive for COVID-19. Now, do you feel that PFL could have continued with their 2020 season or as I said, prioritizing people's safety was the ultimate goal?
Peter: Oh Great question and it was a very difficult decision, the information we had, frankly, in March of 2020. We were very decisive and to guiding factors that lead to us, rescheduling to 2021, and number one was safety.  We have fighters from 20 plus countries. All the international travel logistics on an ongoing basis, very complex, so safety was our number one priority for fighters and obviously operational staff, and number two really all about maintaining the integrity of our true sports season format with a regular season, a playoff, and championship. It takes eight months to execute it; we had two successful seasons under our belt, growing our ratings in the US on average 50% from each event, the championship is just in the new year's eve was up 100%, enhancing more international coverage we had over 3 million people outside the US, engaged in our last event and we felt anything less from a full season did not make sense from a business point of view and also fan point of view. We looked at truncated seasons and one off-event, but that's not what the PFL is focused on today. So those are really the two factors, safety, and integrity of our format.https://www.instagram.com/p/CEKJIyyJhNK/
ES: That's great to hear. I mean this was a tough time for all of us and really taking some smart decisions was what the entire society needed and PFL just did that but even though the action didn't take place inside the cage but there was a lot of action outside of it. I mean, PFL has been working on so many things as you said Free OTT platform, new changes. Fans are going to witness something energetic from the 2021 season. So was the entire journey hectic, or was it really enjoyable? I mean, the fans are expecting something more, let's give them what they want.
Peter: Yeah, I mean we are a fast-moving nimble organization so we know how to pave it and where we see a need to protect our brand and business, and people as well as vivid to capitalize on opportunities and those are the combination of the two. So we are storytellers, we are excited about the growth of the sport. Our role in growing the sport and it really comes down to content and access to fighters, and we are telling the stories around to reimagine the sport and engage PFL fans every day.
ES: PFL is just two seasons old right now, and it already has a global fanbase. I mean, the impact is equally alarming in Asia. I stay in Asia and I know the impact the organization have over the fans and fans are really eager to know what's going on in PFL. When is the season is coming and all and it was really heartbreaking when we found out that 2020 season isn't taking place? So we are even more excited about the 2021 season. So is there anything new that is going to happen, as you just mentioned that the kick speeds are going to be measured soon. Apart from that, is anything new that is going to get introduced in the new season?
Peter: Well, as I mentioned, with respective the season format and product presentation, the kick speed is a  big innovation. We will have some other new data and technology to integrate within the broad line broadcasting streaming. I previously mentioned we will have an enhanced fighter's roster. We are very focussed on top 20-ranked athletes around the world. So we have in existing roster, that's already set, with fighters such as Rory MacDonald, former champion at Bellator, we signed last year. He was the number one free agent. He is still in the prime of his career; I believe he is yet to reach his peak. So he is an exciting new addition that fans have not seen in the welterweight class, so that's exciting.
Outside of that, prior to the season, we are focused on international qualifier series. We haven't announced our plans there, but last year we had a few events to identify new fighters from key countries outside the US to develop. So will be making those announcements before the new year. In addition, we are likely going to support some athletes in some big fights to ensure that they are staying in fighting shape and providing visibility for themselves and the PFL.  So we will be making some announcements at there as well. I am sorry, can't share those details right now.
ES:  I understand and it's great to hear that and ago you have also mentioned a few days ago that you are targeting India as one of the prime locations for your MMA ventures. Now, how did that idea come up? I mean, can you open up on it? Like is it going to be some major signings from the country or are you planning to host some events in India?
Peter: Yeah, we are very excited about the potential in India with over 1.3 billion people. Such a large sports community within India, following traditional sports, whether it be cricket or global football and other sports. We believe there's so much room and opportunity to provide fans in India that not had access to premium MMA. So we are really excited about turning on the country, and its fans and as well as developing future fighters and our strategy is refold, number one, quality distribution and reach, and we recently announced our distribution partnership with Eurosport India, a premium media company and sports throughout, certainly the world including India so we are really proud of that partnership.
They will help us promote the PFL and open up access to our events in 2021 in addition to ancillary programming. So distribution is number one. Number two, absolutely we are getting into the grassroots of the sport in India, working with third parties to develop the sport, identify future athletes who have their credentials and the capability and skill to fight on a global scale within the PFL, and then finally future events. It's something we are taking a look at, we are having conversations with various stakeholders in India regarding hosting our world title championship year-ending event and so I would say the next two seasons we will absolutely be activating the PFL on the ground in India.
ES: Definitely that's a great thing for Indian MMA fans and this is actually the first time, a US-based sports promotion is trying to get into the Asian MMA scenario, where they already have such a huge fanbase. They already have such a great impact on. Now, when we talk about Asian MMA, ONE championship is already doing a good job over there and they kind of have a monopoly. So when you think of getting into the Asian MMA structure do you see them as legitimate contenders or is it just going to be a free flow of healthy martial arts amongst all the sports entities?

Peter: We are focused on our strategy and growth plan. It's unique! We are today the number two global MMA organization. We have achieved that in just two years and fans are responding to our premium product, our innovation, our top fighting talent and it's a seasoned model where there is beginning, middle, and end. No different than a sport of soccer or the NBA in the US. It speaks to the athlete's desire to earn their way to big fights and a big payout, you know, each of our champions are awarded a million-dollar, should they win the championship around six weight classes? So we are doing it with the distinction, we are focused. We are focused on how the PFL is reimagining and growing the sport and turning fans on.
ES: Yeah, fans are quite excited about PFL. Fans have always wanted to know what's going on in the organization and you are someone who has been in the fight business, rather sports business for years. You hold a massive experience in that and you have seen a lot of fan bases, considering your experience. So when we talk about these European MMA, Asian MMA, or US MMA. Are there a lot of differences in terms of fan bases or are the same everywhere, like they are just there to watch premium content and sustain the hype? How do you see it?

Peter: Well, we are always cognizant of all. As a global citizen or company, we are cognizant of all cultural differences but the similarities among MMA fans around the world, there are key similarities across the board. I mean if fans want to see quality competition, top fighters, big fights, they want access to their backstories, and it really just speaks to there is not enough quality MMA around the world that fans have accessed to. So we are excited to provide that and do it. As I mentioned in a very distinct way, and 450 million fans around the world- half of those fans don't engage with other sports. So they are primarily spending their time engaging in combat, engaging in MMA. So this is a real desire amongst these fans that have access to more quality fights and that is our simple premise.
You know, we believe there's more room for more than one leader in this sport. It is very analogous to soccer around the world with multiple organizations and leagues who are engaging their fans regionally as well as globally and MMA is no different today, but we have been working on this for 3 plus years. It didn't happen overnight. We bring vision; we bring real expertise and credibility within MMA and then broader sports media and technology. I have an exceptional team across the board on the fighter's operation side.
Our president of fighter's operation Ray Sefo, he is a six-time world champion kickboxer. Ray is a proven recruiter of star talent, knows how to develop athletes and my team knows how to tell stories that are relevant for fans around the world including in India and so we are really looking forward to engaging the Indian marketplace and providing that access and then we hope we have some talent from India certainly within the next two years competing within the PFL.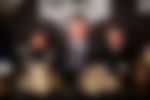 ES: Definitely. PFL has brought always something new to the platter. I mean, when the season based MMA game plan was introduced, it was really new. I mean before all the MMA promotions had their never-ending events like going on by stage by stage and PFL introduced the season-based format which somehow had an impact on the fighter's mindset. I still remember when Conor McGregor made his return at UFC 246, he said that he wants to view it as a season, his return, but unfortunately, those promotions doesn't have that luxury. So do you think that the season based format has somehow positively impacted a fighter's mindset after PFL launched it?
Peter: Well, what I can tell you is in just two short years, as we enter our third official season, the PFL has changed the aspirations of the top athletes around the world meaning there's alternatives to them, to compete number one on a global stage, number two against the top talent around the world and that's what athletes want and number three we provide them a transparent opportunity to become champion. It's not about social media, it's not about trash talk. It's about the god-given talents and earning their way into the post-season and championship, and there's a lot of drama in that. We play that narrative up, but it truly is the meritocracy and who's not inspired by anyone in life, who earns their way to the top. So that's what excites us, that's what excites the fighters, and that's what excites fans.
ES: Yeah, that's true. Within two years, PFL has made such a huge alarm and has got a global fanbase and there's no denying that Mike Tyson is one of the biggest fans PFL has like he was always been keen on knowing what's going on in PFL, he has always attended live events most probably and he is going to make his return a few months later against Roy Jones Jr. Now, as a fight fan, if I ask you to put your money on any of those men. Who would it be? 'Captain Hook' or 'Iron Mike?'

Peter: I am in Iron Mike's corner. He is a champion; he is an icon and I would never bet against Mike and we appreciate all the support that he extends to PFL. He is a part of our family. I am looking forward to that fight like many fight fans. Mike, I think will continue to set the bar and he really is ageless and having seen him training for this fight. It's going to be a spectacular event.
ES: It was great having you here and unfortunately you were bounded by time, but it was great talking to you. I hope we will interact soon in the future. Lastly, if you want to say something to the viewers.
Peter: Great talking to you, I am sorry I couldn't be on the video with you and I look forward to ongoing conversations around the sport of MMA and PFL and we look forward to continuing to promote the PFL and provide fans in India access. So more to come.
ES: Nice talking with you. So that's all for today, fans. We will meet again soon. Till then stay safe, Stay well. Thank you, Peter Murray, for joining with us.
ADVERTISEMENT
Article continues below this ad
WATCH: Former UFC Champion Jon Jones Takes His Training to the Next Level