"I Felt the Vibration"- Alyona Rassohyna Recalls Her Original Win Against Stamp Fairtex Before ONE: EMPOWER Rematch
Published 08/31/2021, 11:49 AM EDT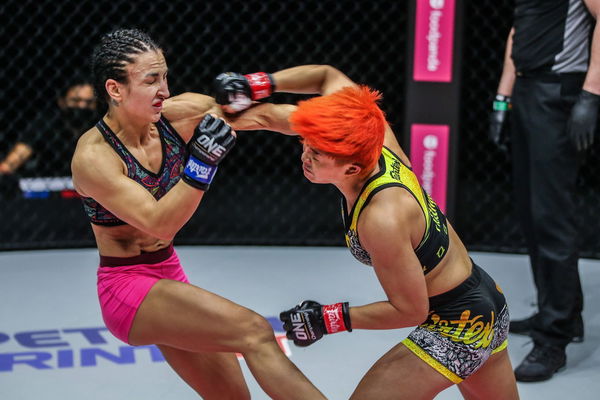 ---
---
Currently, on a three-fight win streak, Alyona Rassohyna will re-match Stamp Fairtex in the Atom Weight Grand Prix quarter-finals at the ONE: Empower on September 3. After putting the maiden loss to Fairtex's surging MMA career, the Ukrainian fighter has all the reasons to boast of her supremacy.
ADVERTISEMENT
Article continues below this ad
However, Stamp Fairtex has denied acknowledging the outcome of that bout. While we had seen her protest the referee's decision right away at One: Battle Ground 3 in February, the Thai star continue to believe the same. She now has a shot at redemption when the pair will collide once again to leap for the semifinals. But Rassohyna isn't ready to take any doubts regarding her win against Fairtex in the original clash.
The 31-year-old connected with Essentially Sports from the virtual pre-fight press conference of One: Empower and reacted to the people doubting her submission victory that came in a few months back.
ADVERTISEMENT
Article continues below this ad
Alyona Rassohyna said, "Honestly, not everyone is saying that I lost that. That she didn't tap. But people who are qualified, who understand like the coaches, qualified, and referees. They do understand that she [Fairtex] actually tapped. And you know when I was submitting her, I felt the vibration."
 "So, it's obviously is [credible]. But people who doesn't understand what is MMA. I know there are a lot of fans of her. If I pay attention to that, I would have finished my MMA game long time ago. So, I don't really care about it."
There's no denying Rassohyna's resume will always display a stellar win over Fairtex. However, Stamp Fairtex can rightly turn the tables in the re-match, especially after she had shown sheer dominance over Rassohyna, even in their first fight.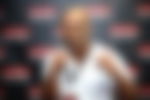 Alyona Rassohyna vs Stamp Fairtex: A slugfest at One Empower
On looking back to the first fight, Fairtex can use it as a blueprint for crafting her resurrection in the ride. She could crack her Ukrainian opposition several times, with complete dominance on the ground. There was a point where Stamp Fairtex had almost locked Rassohyna in a guillotine. However, it was Rassohyna who shocked the world by submitting the opposition.
ADVERTISEMENT
Article continues below this ad
As it's time to run it back, we can see Fairtex ingress with all her prowess and learnings from the first scrap. All of these cites an intriguing collision between two former rivals in a historic fight card which can be one for the books.
ADVERTISEMENT
Article continues below this ad
Who do you see winning the re-match? Stamp Fairtex or Alyona Rassohyna?
Watch This Story: 5 Eye-Opening Facts About Manny Pacquiao