"It's a Bit Dangerous"- Khabib Nurmagomedov Not in Favour of Open Scoring
Published 03/17/2020, 6:11 AM CDT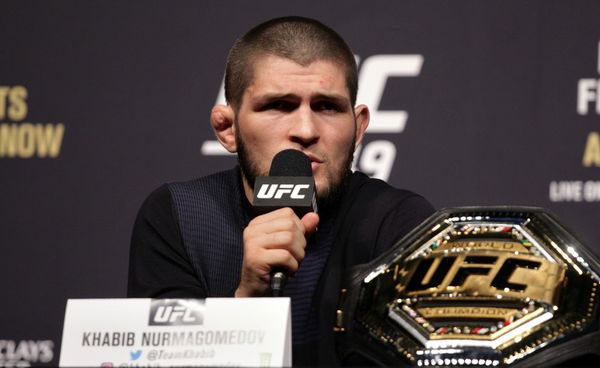 ---
---
Undoubtedly, one of the most debated issues, after the impact of coronavirus, in MMA today is judging and Khabib Nurmagomedov agrees so.
ADVERTISEMENT
Article continues below this ad
And it has only gained more traction since that controversial decision last month at UFC 247.
A table full of MMA champions were asked to share their insights on open scoring and any advantages they see coming from it in MMA during a recent Dominance MMA media day.
ADVERTISEMENT
Article continues below this ad
Khabib Nurmagomedov, the UFC lightweight champion, shared his thoughts on it saying he can see open scoring benefitting but it can also affect fighter's mentality while he/she is in the octagon.
"For example, open score, the first round is very close, and judges give for blue corner, and red corner doesn't agree with this and not all fighters very strong mental," Khabib said.
"Like inside the fight, it can happen like maybe some fighters, first two rounds he lose, he can say, 'Ok, I'm out. I don't want to fight no more. It's like little bit dangerous too," he added.
However, Khabib goes on to point out that the main issue here is not how much you are aware of it but who's judging the fights?
"I think in MMA, we have a lot of judges from boxing, and they don't understand MMA," opines Khabib.
"But I think we have a lot of veterans. We have to teach them a little bit and put them like judges."
"Because a lot of guys don't understand like wrestling, they don't understand grappling, they don't understand clinch. They know only like boxing."
ADVERTISEMENT
Article continues below this ad
Khabib further points out that this is the reason "Why I think we have to bring a lot of veterans and like MMA veterans, who understand MMA."
Despite UFC cancelling its next three events, it appears that the company's president, Dana White, has failed to address the status of UFC 249: Khabib vs Ferguson
The president insists that the fight will go on as planned which is still scheduled to take place on April 18th at the Barclays Center in Brooklyn.
ADVERTISEMENT
Article continues below this ad
"This fight's going to happen," he said. "No crowd. Whatever it takes. Probably not even going to be in the United States, but this fight's going to happen."