MMA's League Is Back: Professional Fighters League Launches Campaign For Upcoming 2021 Season
Published 04/05/2021, 10:57 AM EDT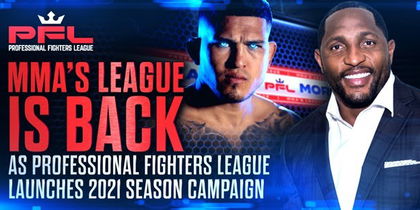 ---
---
With the Professional Fighters League set to return for their highly-anticipated 2021 season this coming April 23rd, the league recently launched a kick-off campaign entitled "MMA's League Is Back", featuring pro football Hall of Famer and two-time SuperBowl Champion Ray Lewis.
ADVERTISEMENT
Article continues below this ad
The PFL Studios-produced 60-second spot, which was narrated by Lewis, aims to excite over half-a-billion mixed martial arts (MMA) fans across the globe in anticipation for the return of the only league in the world to present the sport in a tournament-style season format.
The promo video is just the first part of the bigger "More Than A Fight" campaign, which embodies the identity and the character of the PFL and it's one-of-a-kind format, as the league's roster of world-class fighters embark on a journey through the regular season and playoffs with the goal of competing for the prestigious PFL World Championship, as well as the million-dollar grand prize.
ADVERTISEMENT
Article continues below this ad
Simply put, each time a fighter enters the PFL cage, it's More Than A Fight.
The campaign is being distributed across multiple platforms such as digital and social.
Lewis, who was recently appointed to lead the PFL's Athlete Advisory Board, provides an intense and undeniable narration throughout the video, which features some of the league's biggest stars and most exciting moments
"PFL's season format is a game-changer in MMA," Lewis stated. "Every fight means something, and it accelerates the level of intense competition. April 23 – it's on!"
Watch the spot here:
ADVERTISEMENT
Article continues below this ad
"The "MMA's League Is Back" creative embodies the PFL brand, previewing the star-studded roster and what fans around the globe can expect this year. This will undoubtedly be our biggest season yet, as we have elite fighters from more than 25 countries around the world, the best broadcast team in the sport, and a primetime platform when we return to action April 23 on ESPN," said PFL CEO Peter Murray.
This upcoming season of the PFL is shaping up to be the league's biggest yet, with the addition of some of the biggest names in the world of MMA. World champions such as Fabricio Werdum, Anthony Pettis, Rory MacDonald, and Claressa Shields are all expected to make their PFL debuts this season.
The PFL's 2021 season will emanate from a state-of-the-art bubble inside the Ocean Casino Resort in Atlantic City, New Jersey.
ADVERTISEMENT
Article continues below this ad