Video: 60 Seconds of Pure Karate Combat Violence
Published 11/21/2021, 9:55 AM EST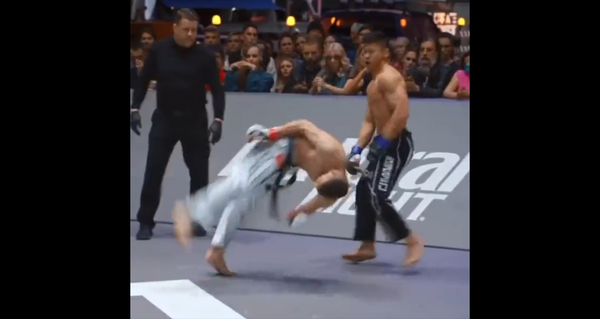 ---
---
Karate Combat is a brand that promotes the world's first professional full-contact karate league. It has been conducting events across the world since April 2018. The main purpose of the organization is to bring new eyeballs to karate. They present the whole sport with a never seen before virtual approach and unique dimension.
ADVERTISEMENT
Article continues below this ad
Recently, Karate Combat's official Twitter shared the following 60-second action-packed video:
ADVERTISEMENT
Article continues below this ad
What exactly is Karate Combat?
With top-notch production value, Karate Combat is a brand new take to the traditional sport. According to the official website, it is "The future of combat sports. Merging the ancient art of karate, millions of die-hard fans and practitioners, and cutting-edge video production, Karate Combat is the premier karate organization in the world."
With three seasons, all completed and packed with action. The sport is en route to becoming a household name in the sports-entertainment sector. Georges St-Pierre a living legend in combat sports, holding a still-unbeaten record of nine UFC Welterweight Championship title defenses is amongst the league ambassadors list.
The list also includes Sebastiaan "Bas" Rutten and Lyoto Machida. Both of them are legends in their fields of expertise.
Rules in Karate Combat
The whole competition features over 1000 male and female fighters from around the globe. They fight in several fights stretching at a 12-week period. In addition to this, there are 3 rounds each of 3minutes, with 4 oz gloves. The combat stage is also unique to this sport. The combatants fight in a 6.5m x 6.5m square pit surrounded by angled walls. 1 referee and 3 judges besides the pit invigilate the match.
The fighter can choose any variation of karate style like Shotokan, Wado Ryu, Shito Ryu, or American Karate.
10 point system is used to score the fighters. They give the scores on effective striking, effective takedowns, fighting area control, effective aggressiveness, and effective defense.
ADVERTISEMENT
Article continues below this ad
Is Karate Combat the next UFC?
With KC being covered by the likes of ESPN, it will most likely become mainstream in a couple of years. The company is said to have signed some major platform deals. It will take time, but the audience will surely love this virtual take on karate.
ADVERTISEMENT
Article continues below this ad
Do you watch Karate Combat? Who is your favorite fighter? Share your opinion in the comment section down below.