Stamp Fairtex Set to Face Ritu Phogat In the Atomweight Grand Prix Final after a UD Win Over Julie Mezabarba at ONE Next Get
Published 10/29/2021, 11:48 AM EDT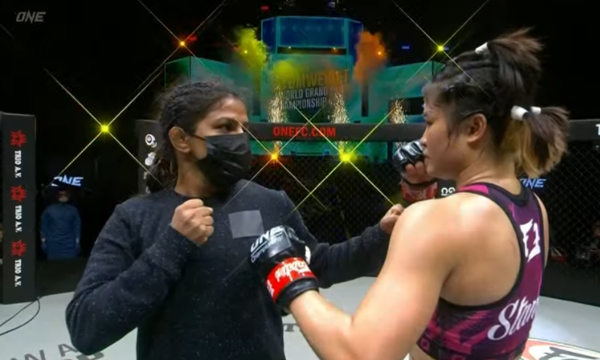 ---
---
Stamp Fairtex did what she said she would do to Julie Mezabarba at ONE Next Gen main-event. She outclassed her Brazilian opponent in a lopsided affair and left no doubts regarding her supremacy. While Mezabarba had claimed to stop Fairtex in the fight, she came across a harsh reality.
Despite making it to the full distance, she had very little to offer. Fairtex was way too strong to take down. But both women unveiled a spectacular fight, which rightly lived up to the hype. Here's how the scrap looked like
ADVERTISEMENT
Article continues below this ad
Stamp Fairtex vs Julie Mezabarba
Stamp Fairtex and Julie Mezabarba didn't delay in putting fireworks into the display. As expected, the striking slugfest came to foray in the maiden round. Fairtex planted some good kicks and pushed her opponent to the corner. She put her Brazilian opposition into a clinch and dominated a brief period of the round. However, Mezabarba survived on a high note. After the round, Fairtex raised her hands and she seemed confident about having an upper hand in the fight.
ADVERTISEMENT
Article continues below this ad
Stamp Fairtex began round two by planting some serious kicks on Mezabarba. While the Brazilian star returned with action, they weren't very efficient. But she could catch Fairtex while the Thai-star tried to plant another kick. Mezabarba then landed serious blows. It fazed Stamp Fairtex to some extent. However, she returned massively.
ADVERTISEMENT
Article continues below this ad
While Mezabarba took her down, Fairtex punished her for that. Gaining a mount position, she unloaded haymakers on her opponent. Mezababrba seemed helpless. Fairtex drained her energy and almost locked her in a rear-naked choke. The clock saved Mezabarba and advanced the bout to round three.
The interesting final round
Julie Mezabarba tried hard to rebound in the final round. However, Fairtex was all over her. The 23-year-old played smart and didn't rush for a stoppage. She maintained the gap from Mezabarba. In the final 30 seconds, Julie Mezabarba felt the urgency of action. She went straight for power shots. But Fairtex was way too wise to avoid all of it. The fight went to the distance and Stamp Fairtex won it via unanimous decision.
She will now battle Ritu Phogat in the finals of the Atomweight Grand Prix. That means she is one win away from challenging Angela Lee for the gold, and two wins away from becoming the Atomweight world champion.
ADVERTISEMENT
Article continues below this ad