EXCLUSIVE: Claressa Shields Opens Up About Training With Jon Jones and Her Move to the PFL
Published 01/09/2021, 9:05 AM EST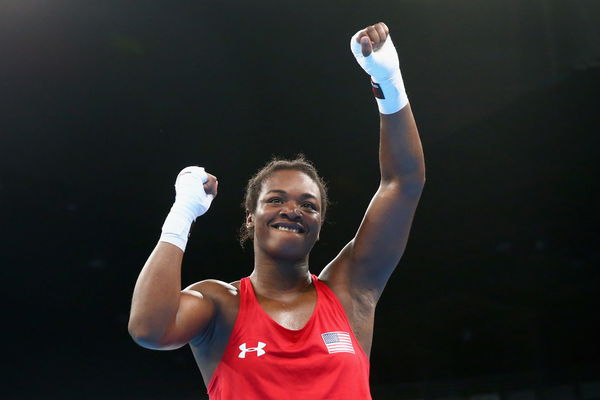 ---
---
Claressa Shields is arguably one of the best female boxers in the world. Some could make an argument for her claim at all-time GOAT status. However, the 25-year-old is not satisfied with the world of boxing.
ADVERTISEMENT
Article continues below this ad
Despite being a 2-time Olympic champion and the first woman to hold 4 world titles in boxing simultaneously, Shields has decided to expand her talents into the world of MMA.
Shields signed with the Pro Fighters League and is expected to debut around May-June 2021. She spoke with Ishaan Bhattacharya of EssentiallySports and opened up about what awaits her in the octagon.
ADVERTISEMENT
Article continues below this ad
ES: Hello everyone. Today we are joined by one of only 8 boxers in history to hold all 4 major world titles in boxing. The WBA belt, the WBC belt, the IBF belt, and the WBO belt, simultaneously. The former undisputed Middleweight Champion, WBC, and WBO Light Middleweight Champion, and one of the greatest boxers to step inside the ring. She will now look to begin a career in MMA with the Pro Fighters League. A big welcome to Claressa Shields. Thank you for taking the time out of your very, very busy day to speak with us.
Claressa Shields: No problem. Thank you for having me.
Claressa Shields and COVID-19
ES: 2020 is almost over. It was a very hard year for everyone, especially combat sports. Boxing was really impacted by COVID. So obviously, your career got put on hold and this year, you also made this massive decision to switch to MMA. It's been hard for everyone, but how did this year impact your career and this decision to move to the PFL?
Claressa Shields: It's been hard for me in terms of you know like financially and how I live and stuff like that. And oh, just been one of those years where even though I focused on Boxing the whole year, I didn't do a lot of boxing, but I've been able to, you know, learn my body more and strengthen a lot of things. I go from benching 135 to 185. Also, just having a clear mind to actually think about what I want to do with my future.
As you know, boxing was, you know, doing its own thing, but I had so many fights get, like get rescheduled. It was crazy. So I was hoping to get back into the ring before 2020 was out, um, didn't happen, sadly. But I did, you know, have a chance to, you know, speak with the PFL and go and get a deal done with them and kind of look forward to my career. I still want to box. But now I feel like it is time to just add more legacy and more, you know, add more history.
Future with the PFL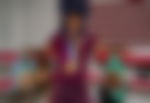 ES: Your career is already shaping out to be amazing. Considering you are moving to the PFL, how has your relationship with Peter Murray and Rey Sefo been? What's it going to be like for Claressa Shields in the PFL? What does the future hold?
Claressa Shields: I think it's gonna be great. And I have a great relationship with the PFL CEOs. I've been able to talk with them. And that's how this came about. It wasn't like just the, hey, we're interested in you, you know, sign with us it was a real conversation and them getting to know who I am, and me understanding who they are and what they stand for. And just to see if we were on the same page, and it was more just like I really want to look at MMA as a career and not just a, you know, one and done kind of show and that and that's how the three-year deal came about. It's very lucrative and I'm just excited to do it that I'll actually be able to, you know, I've already started my training and I'm training at the Jackson Wink gym with Jonny Bones and Holly Holm.
I'm actually in training right now. I had forgotten the interview was at 2 o'clock. So I just did one five minute round of kicking and hitting the bag and not really have forgot about the interview until Laura texted me. And then that's why I still had his gloves on right now because I'm actually hitting them in the bag in the other room. But um, I can just say like it was a great conversation with them. And I really look forward to just having my first match because it's going to show a lot that you know, I can't do it all, you know, people. People say that boxers don't really transition over well to MMA, and I'll be one of the boxers to do it the right way. So I think I'll have a really good transition.
Training with Jon Jones and Holly Holm at Jackson-Winkeljohn Academy
ES: You spoke about training at the Jackson Winkeljohn Academy. What a gym. The heritage the gym has is quite unmatchable in the sport of MMA. And like you said, yourself, Jonny Bones Jones, one of the greatest of all time, former Light Heavyweight Champion. Holly Holm, one of the greatest female fighters of all-time, former Bantamweight champion, kickboxing champion. There's a lot of pedigree there. So apart from that, what all went into that decision to start your MMA training at the Jackson Winkeljohn Academy?
Claressa Shields: It really wasn't like, at first I was just going just to meet the coaches just to do a low training and just see what the game plan was for me. And the game plan for me was to just strengthen my weaknesses, which was also in my game plan. I wasn't coming into MMA like oh, my boxing is so superb. I am gonna use boxing and blow these girls into dust. Like I actually am open-minded and I'm realistic and I'm coming to terms, and I just came to terms very, very quick that MMA with so many different mixed martial arts, and it's best for me to be good at all of them. Like I'm great at boxing. So that's one less thing to worry about.
But Jiu-Jitsu, kickboxing, freakin wrestling, I want to get good at all those things. So when I do get into a fight, have a girl take me down, it's not over. And right now, it's not over. Like I learned so much at the Jackson Wink with Coach Jackson, Coach Wink from Jonny Bones from Holly, I've been able to just do some kickboxing drills with Holly, been able to just learn really combinations and just like the basics of kicking and the body motion everything from Jonny Bones. And also learn how to defend takedowns.
I know people that oh, you know, you did it a couple days. I was there for 10 days. But the thing about me is I learned stuff so quick, is like once I got it, I got it. And I asked questions. And once I understand, it is mine forever. So I like the very quick. And Coach Wink and coach Jackson were very intrigued by me. Every time they showed me something, I did it and they were like, wow, that was perfect. Let's do it again. And of course, it's repetition, repetition, repetition. And, and I and I feel completely comfortable. You know, at first, I thought being on the ground is not a normal thing for me. But after we drilled it a couple of times, I learned how to get out of this and get out of that. Everything just kind of went very well together.
Claressa Shields on balancing MMA with Boxing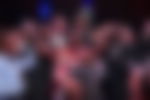 ES: That's true. So you also spoke about this, how you want to not just be full time in MMA, you want to manage your boxing career along with MMA and I think that's quite unprecedented that we don't see top-caliber athletes trying to compete in two sports at the highest level at the same time. So how do you plan on pulling that balance off?
Claressa Shields: I think a lot of mental strength. I think I think that in order to be able to box, also be able to, have to do like my MMA camps by themselves and do my boxing camp by themselves. But also to just when I say that mental strength, like being being being fully aware of which one I'm, I'm in like in a boxing match, I don't wanna make an accident and throw a kick. So that's more of just being like 100% there and aware and I was like, that's all mental. And then also inside the MMA cage, I want to make sure that I'm there 100% to where I know. All the rules and boxing really go out the window, you can kick, you can knee, you can slam, and you hit them after when they hit the ground, there's no 8 count. So getting that into my head is going to be you know, it's going to be a task in itself. But I think just being like fully aware of which one is going on.
I can't just be like, 'Oh, this is something I do every day'. This is not something I do every day. This is a different thing. But I know I have a boxing match in February and then I have my first MMA match in May or June. So I'm gonna do my full four to five weeks from my fight up in February. And then, after February, it's nothing but MMA training. You know leading up to that so I get to spend three, four months at the Jackson Wink gym under coach Jackson under coach Wink, Jonny Bones, and everybody and just kind of go from there. Also, do my best to coach serve. And the wrestling coach, their coach Joey. I mean, I got to get a taste of everything.
When I was there. It wasn't like, 'Oh, we just doing stuff for the cameras'. We really didn't film a lot. It was more just like drills. And if I did get a video it'd be like, I think at the last part of everything. But I spent, you know, 6, 7 hours at that gym a day. And it was 3 hours with Jonny Bones, an hour with Coach Wink, 2 hours with Coach Jackson. Like I spent my I spent that whole 10 days just getting everything into my head and drilling. So it was a really good camp. And I learned a lot. And now I can sleep at night, knowing that I know a little bit of something.
Issues with gender inequality in boxing
ES: I think everyone was quite excited to see how you do it because it's honestly quite amazing that you're trying to do both at the same time. It's never been done before at this level. So it's always a first for something. So you have mentioned the reasons that you are currently dissatisfied with boxing in terms of the gender gap that exists within the sport, you've been quite critical and open about it. So I'm assuming that you already have pristine status within the sport within what you achieved. How do you think like where is the bridge that can just curb this gender gap to a point that we know that MMA is doing a better job with promoting the female fighters, ensuring a certain sense of parity in pay. So how do you think boxing, like what can boxing do to help this situation because it really is unfair after a point.
ADVERTISEMENT
Article continues below this ad
Claressa Shields: I mean, just an example is the DAZN network. Eddie Hearn is doing a great job with all the boxing cards he's having on right now. And every card that I've seen from maybe July of this year till December, have had a woman on the card. It's even been a card where there were all women and men were the undercard, but that's what it is. That's what it's gonna take for every network in boxing to whenever they have a boxing match, have at least one women's card on. Rather it's pay per view, or rather, is on regular cable, like let the world know that Women's boxing exists. And that, you know, the networks are behind it.
But if they keep showing, I mean, inequality to the women it'll never be equal. But DAZN is a great example of them doing it the right way. Like I've seen so many women fight in all these cards. And as I look, even though yeah, of course, you want to see more, but they're the only network that are putting women on right now.
Showtime hasn't put a woman on since January. And that was me. You know, ESPN, I had only had Mikaela Mayer on, I think two or three times this year. And her opponents of course, and Premier Boxing Champions don't have any women. They never showed a women's boxing match, I think until 2012, Shelley Vincent versus Heather Hardy and that was 2012. But if all these networks don't get on board, and they don't support us, and they don't, you know, promote us, then we'll never be equal. And you know, always be where it's at right now. At just a standstill. We're just one network doing for Women's boxing.
ADVERTISEMENT
Article continues below this ad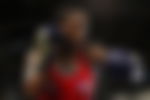 DETROIT, MICHIGAN – OCTOBER 02: Claressa Shields works out during a pre fight media workout at the Downtown Boxing Gym on October 02, 2019 in Detroit, Michigan. (Photo by Gregory Shamus/Getty Images)ES: That's really true. And I think the best thing that MMA has been setting over the last few years is that if you promote it, well, there is an appetite for it. And people do want to watch it.
Claressa Shields: Yeah, and I want to and I want to rewind because Showtime, when I was boxing for Showtime, we made sure that that there were women on the undercard, I made sure that. For the women fought on Showtime that was because I said something to them. I said 'Oh, you want me to fight this person next, have a match on the undercard so she can build up her fan base, and there can be a bigger fight between me and her.'
I've always been that way with Showtime and I tried to tell them and to always put on other women on the card. And I've always been an advocate. It was never just about me, me, me, me. I've always tried to get the other women to get on board. My father had women sign on my promoter so they can get more fights and get better fights and beyond and be on TV. A bunch of women fighters, you know, got some kind of animosity toward me. So they didn't want to sign. But overall, Showtime was doing a good job.
When it came to me it had my future opponents ready. They did, I just feel like this year in 2020, they just dropped the ball for whatever reason. And I'm not gonna say that they were you know, I just think that right now, they just don't know that, that they're being sexist and a lot of networks don't know, but it's like just put women on the card that you have on and get the same opportunities. And you won't, you won't hear us complain. And you won't hear us keep yelling equality because if we had it, we wouldn't do that.
The importance of her grandmother in her life
ES: You have you've been shown to be so headstrong, like, already at the age that you're on, a two-time Olympic champion, multiple multiple time Boxing Champion. And in 2018 you wrote this piece for the Players Tribune, which is a fantastic piece about your grandmother, and how she bred a fighting spirit in you. So what role do you think that your grandmother played now, seeing in 2020, looking at where you are, how and now that you're about to transition to another sport while maintaining at the highest order highest level, what do you think she would have said if she was there today?
Claressa Shields: So as you mentioned, the anniversary of her death is coming up in a couple days. Um, I think my grandma would just tell me just to. I think she'd say just keep just keep going forward because even though boxing does kind of stress me out just a little bit, you know, she's always the person who said like. Give me a second. You know, I'm never going to be like, crying or emotional, just like she told me just to show no weakness. That's what she was saying. Her main thing was 'always show no weakness'. You know, don't be weak. And that's just how I go about it.
You know, I really can't. I'm not like a big complainer. You know what I mean? I'm just like a hard worker, I go and work for whatever I want. And whatever, I want to work really, really hard for it. And you know, she didn't want to say it. She just would have said, show no weakness. Go, you know, go for whatever you want to go for, and do it. You know, that's just how she was.
And her anniversary is coming up in like three days. So crazy you would say this, she is my favorite person in the world. But I know she'd be so proud of me. She's my biggest fan. She loved that I box. She loved how, how mean I was. She never judged me. My grandma was my number one fan. I know. She looked down on me. She's super happy. Super.
ES: Thank you so much for talking to us. Fantastic talking to you. You are a trailblazer in your sport right now. And considering everything you've achieved already, and with such a long career to look ahead to. It's really an honor to talk to you. Thank you for taking the time.
Claressa Shields: And thank you for having me. Have a good one.