EXCLUSIVE: Anthony Pettis Opens Up On Signing With the Pro Fighters League, His Greatest Moments in the UFC, and the Iconic 'Showtime Kick'
Published 03/09/2021, 9:41 AM EST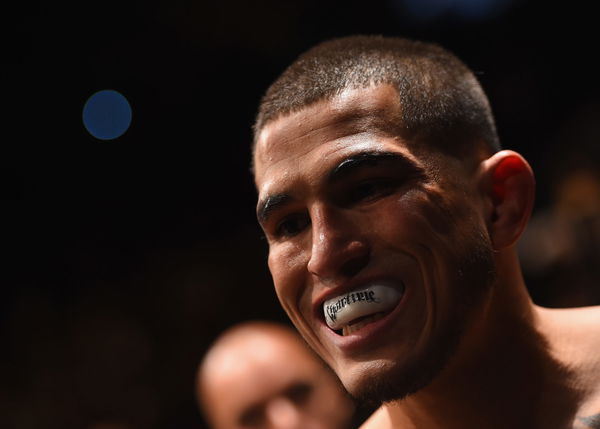 ---
---
Anthony Pettis is one of the best Lightweights in UFC history. The master of the Showtime Kick has had a long career in mixed martial arts, stretching back almost 15 years. However, he may have some of his toughest challenges still ahead of him.
ADVERTISEMENT
Article continues below this ad
We spoke to Pettis about this move to the PFL, his UFC career, being a father, a possible PFL Lightweight title fight, and whether the Milwaukee Bucks can win an NBA title this year. Along with this, Pettis gave a glimpse into what he wants his legacy to look like and what went through his head when he hit the showtime kick.
ADVERTISEMENT
Article continues below this ad
After going on a two-fight win streak where he beat Donald 'Cowboy' Cerrone and Alex Morono, Pettis kicked off 2021 as a free agent for the first time in his career. After fielding offers from multiple promotions, Anthony Pettis decided to sign with the PFL He is one of many stars to commit to the rising promotion.
Anthony Pettis on fighting on the first and last UFC card of the COVID era
That was weird. I mean, we went from, you know, in December, I fought with the fans in the crowd, and it was, you know, people cheering, like normal. March comes around, and, you know, the next card back is me and Cowboy and we're in an empty arena. That was the first time they did it, the empty arena, I think. Like, now they're in the Apex, there's no like, empty stands. So we walk out there, it's just empty arena. You're in an octagon. So definitely, weird times.
Everything felt a little different. But um, you know, I think 2020 kind of helped everybody, you know, slow down and recognize what counts in life, what matters. And I think I did the same thing for me. I pulled back from all the stuff I had going on and just focused on my family, my training and nothing he just just want me back to like that, that lifestyle.
Why he decided to leave the UFC
Yeah, I just felt like it was time. You know, I mean, in the year 2020, everybody's facing these weird times. And for me, it was like; I was coming off a loss, actually and then Coronavirus hit. Then I had my last two fights in the UFC, and I knew I was coming on free agency, you know, with two fights left. And then my little brother just did it before myself. So I think I saw my little bro do it and go over to where he went to.
And then I was like, you know, maybe I should test free agency and I never, I never did it before. I've never tried it before. My lil bro just fell into it. Like we did what was his last fight on his contract? And we should just like see what's out there. For myself. It was more of like a plan. You know, I was like, yeah; I think I'm gonna see what's out there. I'm gonna go like his last two fights out and see what, see what kind of opportunities are out there. If the opportunity was, you know, an awesome, amazing opportunity for me, especially starting is coming up next month already. It's crazy how fast it's coming.
Anthony Pettis and his greatest UFC achievements
Yeah, I would say that era right there. You know, when I, when I beat on the spree I went on. You know after Clay Guida; I think I beat Jeremy Stephens I think I beat- I went through Joe Lauzon, Donald Cerrone, Ben Henderson, Gilbert Melendez. That whole little spree right there, man. I was just on fire. I was going through everybody. It was just a great time in my career.
But the highest highs lowest lows too. I've had three-in-a-row losses in the UFC over there so I know how both sides feel. So I can say I experienced it all honestly.
Why he chose the PFL over other promotions as a free agent
I like this format. I feel like if I went to other promotions, I would have had to go and fight my way up to a title shot and like try to like figure out who I had to talk trash about to get into, you know, the next place in line. So I like to fight and I have fought a lot. I think in my career; I fought like three or four times a year every year so far, besides my injury years. And then you know so not only the opportunity to fight so many times and the stability of like knowing when I'm gonna fight.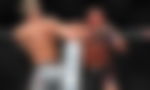 I know my whole schedule right now; I know when I gotta make weight; I know when I'm going to be you know, getting down to weight. And that's not you know, sporadic moments of like 'oh man I have to cut weight in two weeks' and make weight in you know 21 days or something crazy like I've had done in the past. So I think that was what stood out to me.
The way they approached me as well. They approached me as like a partnership, not like you know, you're working for us or you're our employee or like your you're a fighter. They asked me what were my goals, what were my accomplishments. What did I want to accomplish before my career is over? I felt like they approach it from a really good professional sense of like you know, it's a partnership.
Anthony Pettis vs Clay Collard
Yeah, I think the thing that makes me excited is that he (Clay Collard) likes to fight standing up. He comes in there he throws. He comes to kill or be killed if you will. Like that's his style. So I think that's something very exciting to the fans. And I think my experiences in the show just because I've been in there with you know, some of the biggest brawlers and the biggest names and some of the scariest strikers in the world, not only in the UFC, so I feel like I've seen it all, really. I think I'm experienced to go out there and be beaten professionally.
The key is to avoid getting damaged because you know, there's a fight coming up two months later, two months later. So it's kind of like the thing they do they're playing around with now is like trying to be strategic on training. Because we can't, I can't stay in season and go like training camp for six months, because that's just won't work on my body. So we're kind of like playing with, you know, finding the pad, the right pad sparring, and you know, drilling combination to make it last for six months.
Impact of the tournament format on his recovery process
Um, yeah, I'm gonna have to get right back to work, you know? There is no like off time or no, like, you know, recovery time. So, um, I kind of like it. I feel like you know, where I'm at in my career, I understand how to do training camps. Now I know, like how to avoid injuries, I know who to go with, not to let my ego take over and you know, put me in bad spots anymore. So I feel like I'm professional to make this season happen. It's just like now can my body hold up? Only time will tell.
Anthony Pettis on whether he will return to the Welterweight or Featherweight divisions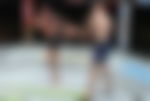 Definitely not the featherweight division, I'll never go back down to 145. That was such a hard weight cut. But welterweights definitely it's an option. I want to see how the format goes first. I'm gonna see how I feel maintaining at lightweight for the rest of this year and then we'll go from there. You know, my goal right now is to get that lightweight, that lightweight strap, you know and get another belt but above my fireplace and go from there. Yeah,
On the possibility of fighting for a fourth world title in a fourth promotion
I think it's that's the legacy you know? That's where legacy has to step in. That's where I gotta get my drive and motivation from. To get out there and like really leave my mark. I know I know how I can help all my potentials and how good I really I mean I spar every day with some, some great guys, and I just go out there and flow and be myself this year.
That's what I'm looking forward to doing. Whatever happened in the past, you know the Showtime kick; you know WEC UFC titles like right now? I'm starting fresh and like refreshed, if you will. I had a nice little time off and I feel good to go out there and get after this PFL belt.
On what Roufousport is planning to do in 2021
We're focusing on kids mixed martial arts. I just started my own management company out here in Milwaukee, Wisconsin, because we have so much talent. And now hopefully when COVID loosens up, when we start getting these restrictions gone. We're gonna have our first fight show. I get all my fighters fights. So that's kind of our missing link right now, is having a place for our fighters to get fights that we had we were having to travel and stuff. So once I put these five shows on we'll have the full system on how to rotate fighters through and get into the UFC and PFL and Bellator and all these other big organizations because we'll have a place for them to perform for them to see their talents.
Thoughts on whether Ben Askren can beat Jake Paul
Yeah, honestly, I think as far as like probably boxing skill-wise, like as far as like time on Boxing training, that might be even on-on-on-on that. You know, like he like- because I think Jake Paul only does boxing where Ben (Askren) does grappling. It's still fighting, but it's definitely a different science. It's a different movement, it's a different rhythm, a different pace. So I think, I think Ben's good enough athlete to catch up and like get to where he needs to be at to survive. And he's been punched in the face before, so it's not like it's gonna be a shock to him.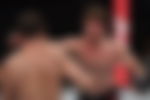 Jake fought a basketball player last time, he's probably never got hit like that before where he was like, 'Whoa!' like, something new to him, foreign. So as far as Ben like, Ben felt that before he can work through it, um, but it is something that Ben's- you know, I would say Ben's gonna fight this dude. So it's pretty cool to see me. I'm gonna watch it. I'm excited to see.
I don't think Ben's gonna break. You know, like, whereas the last guy broke. I don't think Ben's gonna break. So I think this is gonna push Jake to the limits and see if he can survive in deep water.
Whether Giannis Antetokounmpo can lead the Milwaukee Bucks to the 2021 NBA Championship
I hope he can. I mean, they were always like, right there. You know, Giannis (Antetokounmpo) is a freak of an athlete. You watch him, when you can watch him warm up and like you're just like, man, dude's graceful. He's like such a big dude. But he has like that, that movement in that flow of like a little guy. So it's crazy to see. But just getting the whole team to follow. Either follow, lead, or play as a team and like, get this thing going. So yes, sometimes it's frustrating to see because it's such a talented team. And we fall short all the time.
Yeah, for sure, man, you know, I was like, very close to. I fought the best in the world. No, no one can say I had easy fights and every fight I fought, even when I lost I fought the next best guy. So I feel like no one can say that. These are the things that happen in these fights that you know, it's just like made me feel like man, I've had some bad luck or something's going on because I was so close I was falling just a little bit short. But I mean, that's when it comes to in the fight game and it's a game of inches. There's so many guys at that level that uh, you know who could pull in, who could last more, who can suffer more?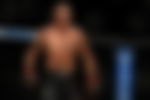 On me breaking my hand the Tony Ferguson fight. I had him. I thought I had him and he was rocked. And then you know, that happens. It kind of evens it out. That's the fight game. That's why I love this game, man. So um, yeah, I think I think if things were turning, I would have won those fights. Definitely, I would be in a different position. You know, I'd probably be fighting for belts and stuff right now, for the belt. But, uh, you know, everything happens for a reason, you know.
I feel like I've done that, I've accomplished that, that that that title that that goal of mine. It definitely would be nice to be fighting for the belt again or being the best in the world. That's my goal is to be the best wherever I'm at. I don't care what organization it is. I want to be the best and that's why that's honestly why I'm excited about the PFL, because I get to find out from the best this year like there's no like waiting process and like build-up process like I will know at the end of the year whose the best in this division.
Anthony Pettis vs Nathan Schulte?
Yeah, I think um; you know after seeing like- when I knew I was going to the PFL, I was watching old stuff and seeing him fight. Um, I liked the challenge. I think he's well-rounded, very good everywhere. He has good striking, good grappling. But it's nothing I haven't seen before. I've been on the ground with them. And I've been striking with them. So I feel like I'm pretty confident in my skill set to go out there and fight against anybody. So no, I think that that day will happen and that we'll have an answer this year.
There's definitely motivation. I think, you know, whenever you're doing something new in life, it's definitely motivation and it's like, things are changing. And you know, like, my whole lifestyle is gonna change pretty soon, you know, like, where I'm, there's no more traveling when I want to, or like doing things like that. I am going to have my infant with me. So, yeah, it's definitely motivating. I think that it helps you just get more clear, clear-headed, and understand where you want to be at in your future. It makes you focus on it. So yeah, I think, you know, it's definitely motivation.
What Tyron Woodley needs to do to arrest his current run of losses
With (Tyron) Woodley, you know that all eyes are on you. And then your next fight isn't like, easy gimme fighter or a step up, it's a killer. Then the next fight is a killer and a killer like so on. Once you're a champion like your face, you're guaranteed to be facing killers all the way through. So like I had to deal with that as well.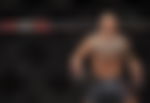 You know, I went from Ben Henderson to Gilbert Melendez then RDA, Edson Barboza, Eddie Alvarez, that was my three that they put me right against. And I took- I welcomed it you know, but it's like, it's a game of inches. When you come out there, you got it; you got to be just as hungry. And these guys want that belt that you just had. The money changes when you lose your belt. There's a lot of stuff that goes into it that makes you feel like, I don't know, it's kind of scary spots. I know.
I know where Woodley is at you know, and I think he has to clear his head he has to eliminate all the other stress in his life and just focusing on what he's good at his training, what he can control his training, how good a shape he's in and, and that kind of stuff, where he can get back into competing with the best in the world. Because it's a game of inches when it comes to the to number five to number one through five.
On having Sergio Pettis by his side
Oh, man, it's awesome. You know, I train with Sergio every day. He's one of my main training partners and I think when he's in camp, and I'm in camp, and we're just grinding it's like, it's such a cool process and we get to experience that together. You know, we're running together, we're dieting together, we're in the sauna together like it's cool. Because we have been on the same cards before where we both won and got bonuses, and then we both were on the same card we both lost and one got knocked out. I lost my belt. I think.
ADVERTISEMENT
Article continues below this ad
That's when we were both on the same card. So it's like highest highs, lowest lows. And you know, I don't think he would change it or I would change it for the world man like we've experienced so much together. It's been amazing.
Anthony Pettis vs Benson Henderson: Does he wish the Showtime Kick knocked Bendo out?
Watch This Story
ADVERTISEMENT
Article continues below this ad
Oh, man, hell yeah. I mean, that was like, so, so cool. I honestly when I threw it, I landed I turned around; I was like, damn; it worked. Like I didn't even know like, I was surprised that it worked. When I went to go, like finish him off. And he was still like, he was dazed, but he like grabbed my leg and held on that single leg. I started pounding on the side of his head.
But uh, yeah, man, it was, it was one of them kicks that was just like, it's amazing. You know? You want to watch it now, I'm like, bro, it's crazy. Like the fifth round in a title fight to go pull that off.