'Getting a UFC Championship Does Not Mean S**t in the World of Boxing'- Jake Paul Berates Tyron Woodley's Accomplishments
Published 08/27/2021, 1:12 AM EDT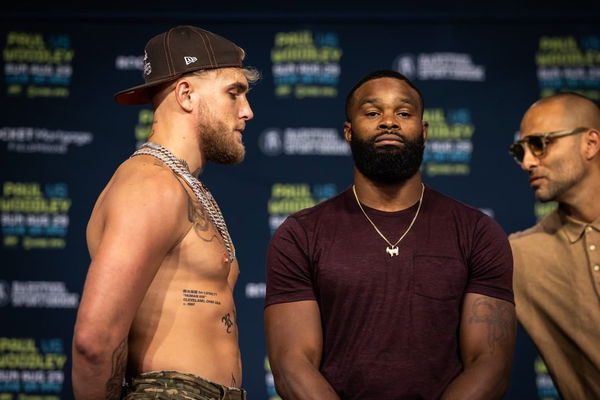 ---
---
The press conference for Jake Paul vs Tyron Woodley was entertaining, to say the least. Both Woodley and Paul went back and forth trying to get under each other's skin. The aftermath of the press conference saw a huge scuffle break out between team Woodley and team Paul after a member of Jake Paul's camp spoke disrespectfully to Tyron Woodley's mother. 
ADVERTISEMENT
Article continues below this ad
ADVERTISEMENT
Article continues below this ad
During the press conference, 'The Problem Child' was quick to dismiss Woodley's achievements as a mixed martial artist. He said, "You know I am going to show on Sunday that getting a UFC championship does not mean s**t in the world of boxing."
"I don't respect what he has done at all. And to be honest, it started in the locker room with the Ben Askren fight. After he got choked out in the first round, I told him, I said you and your best friend are going to have a lot in common after tonight. You both got finished in the first round."
Will UFC championship experience help Tyron Woodley against Jake Paul?
Tyron Woodley is one of the most decorated UFC champions ever. 'The Chosen One' defended his belt four times against the likes of Stephen Thompson, Demian Maia, and Darren Till. Woodley won the belt with a spectacular knockout over Robbie Lawler and then proceeded to fight some of the very best fighters in the UFC. 
Woodley has faced a wide variety of opponents in his career, from knockout artists to Jiu-Jitsu wizards and Karate specialists. 'The Chosen One' has always managed to find a way to win. Against Paul, this will be the first time that Woodley will be allowed to use only his boxing. 
ADVERTISEMENT
Article continues below this ad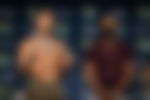 Woodley is no stranger to overcoming tough situations, during his time with the UFC, 'The Chosen One' has had to overcome adversity multiple times. Something Jake Paul is not familiar with, in a fight at least.
This experience will be invaluable for Woodley in case things do not go his way in the first few exchanges. It will be interesting to see how Woodley adjusts to his new sports and how he parlays his experience in the octagon into a boxing ring.
ADVERTISEMENT
Article continues below this ad
Read this story: Top 5 Biggest Rivalries in the History of the UFC