Joe Rogan Says Mike Tyson Was 'Hypnotized' by Trainer Cus D'Amato
Published 01/03/2021, 4:31 AM EST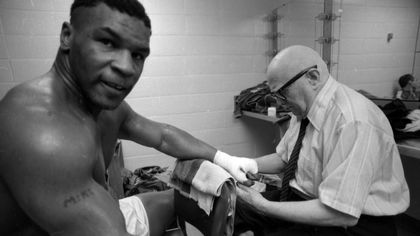 ---
---
Mike Tyson is one of the greatest fighters to have ever laced up the gloves and stepped into the squared circle. 'Iron' made history when he became the youngest ever heavyweight champion of the world under the tutelage of the legendary boxing trainer Cus D'Amato. Tyson orchestrated his growth from a prospect with a lot of talent to a demolition machine that destroyed everyone put in front of him. 
ADVERTISEMENT
Article continues below this ad
His ferociousness and his ability to finish a fight in the blink of an eye made him a PPV star. During his career, Tyson made in excess of half a billion dollars. Knowing that a Tyson fight would not go the distance in most cases excited fans. This contributed to his immense earnings.
This stands true 15 years on from his last fight as a professional. Tyson took on Roy Jones Jr in an exhibition bout in November last year. Despite skepticism from critics, the event did very well showing that at 54, Tyson can still sell pay-per-views.
ADVERTISEMENT
Article continues below this ad
Read: 'I Turned my delusions into reality"- Mike Tyson details how he got successful 
Joe Rogan details what made Mike Tyson special 
On a recent episode of his podcast, Joe Rogan along with Mark Normand discussed in detail what made Mike Tyson stand out. Rogan said, "A 100% he talked about that trauma. The trauma is also what motivated him to be so great."
"See, the thing about a guy like him is you can not get there any other way. It wasn't that he was just skillful, just competitive, and just unbelievably technically proficient in the art of smashing people. He also had an extra gear that other people did not have."

Rogan continued, "He was even hypnotized when he was a young boy…. Cus D'Amato took him when he was a young boy. You gotta realize he is like 13 years old, adopted by one of the greatest minds in the history of boxing."
"He was a hypnotist, he really understood psychology, and he was one of the great boxing trainers. He trained Floyd Patterson, Jose Torres, he is in the game forever."
Tyson was an extremely reckless teenager who was arrested several times for multiple transgressions. However, his life changed when he found his love for the sport of boxing and was adopted by Cus D'Amato who molded him into a world champion. 
ADVERTISEMENT
Article continues below this ad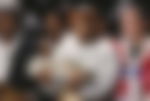 "He (D'Amato) was always looking for that one great fighter. He found it in this 13-year-old kid and he knew it right away. Because this 13-year-old kid was a 190 pounds…. And had incredibly natural ability and drive and was getting praised for doing something finally."
"Whereas all of his life he is getting sh*t on dismissed and locked up in jail. Now all of a sudden he is getting praised for it and then he is getting hypnotized by this guy who is telling him you don't exist, only the task exists."
ADVERTISEMENT
Article continues below this ad
What do you make of Rogan's assessment of Mike Tyson? Do you agree with his statement? Let us know in the comments below!