5 Things You Didn't Know About Deiveson Figueiredo
Published 05/30/2021, 3:30 PM EDT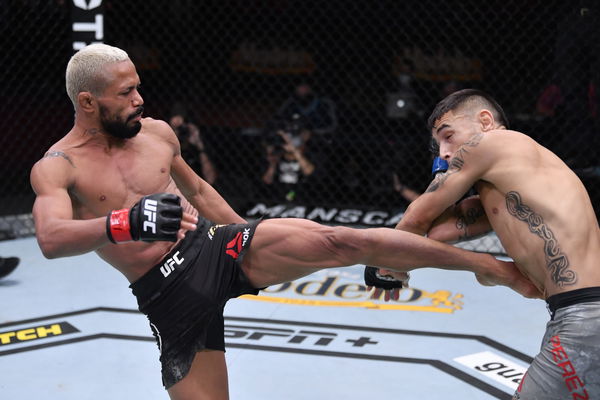 ---
---
UFC Flyweight kingpin Deiveson Figueiredo is one of the many fighters in the promotion to come out of trying times only to make an enormous impact later. The Brazilian now has the responsibility to not only expand his dominance but also carry the weight of the flyweight division.
ADVERTISEMENT
Article continues below this ad
He would hope to follow the path of the preceding champions, Demetrious Johnson and Henry Cejudo. The duo had successful stints as champion and feathers attached to it with multiple defenses.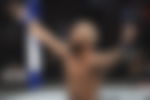 ADVERTISEMENT
Article continues below this ad
It's not always easy to get into UFC, and Figueiredo too had applied his trade for various local promotions before finally settling in for the biggest MMA organization.
While he is now a household name and most of the things about him are known to everyone, let's have a look at 5 of those things which need a bit of attention.
Deiveson Figueiredo and different occupations
Prior to his fighting and championship moments, 'Daico' earned his living by working in various professions. When he was 19 years of age, he worked as a security guard. Simultaneously, he was learning mixed martial arts.
In his hometown Soure, Brazil, he worked as a security guard in small clubs on weekends. The other guards there assigned him (who were taller than him) to immobilize the biggest guy when some fight broke out in the club. He even made some guys submit to him.
Sushi Chef
Figueiredo and his brother learned to make sushi in Belem from one of the acquaintances at the gym where they trained. The man took both of them to the school where he learned to make sushi. After some time, that man helped Figueiredo earn a job.
Figueiredo's first experience of being a sushi chef came before he permanently moved to Belem. He left his native city Soure and started earning money working at various restaurants. He even opened a temporary sushi business of his own in 2017 with his first UFC cheque.
Hair Dresser
At 26 years of age, Figueiredo applied to work in a hair salon. This profession was the much-liked one for him but also was the most difficult one for him.
He came close to getting fired on multiple occasions. Once he did a bad haircut for a young boy while the other he messed up shaving the head of another guy. The latter ended up getting cuts on his head.
His brother is also a professional MMA fighter
There are many fighters in MMA who are siblings and even cousins. Figueiredo too has a brother who fights professionally. The latter, though, used a different surname earlier. He fought under the name Francisco Sniper Nazareno.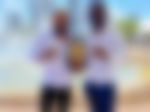 Unlike his brother, Francisco wasn't a top name and applied his trade for the regional Brazilian circuits before his hard work paid dividends and he made his UFC debut against Jerome Rivera earlier this year.
He is scheduled to fight Malcolm Gordon next at UFC Fight Night on July 17 this year. He has picked up 12 career wins.
Has the fastest championship turnaround in UFC
Figueiredo defended his gold against Alex Perez at UFC 255. He had won the vacant title after beating Joseph Benavidez. This was his first title defense. He was initially slated to face Cody Garbrandt, but the latter pulled out because of injury.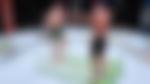 He dominated the fight and won via a guillotine submission in round 1 to successfully defend his crown. After this match, he defended his gold at UFC 256.
Just 21 days after his last fight. This became a UFC record as he fought against Brandon Moreno in such a quick time. The match was a draw, and he extended his unbeaten streak to 6 matches.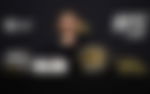 Deiveson Figueiredo missed the weight cut for the title bout
The UFC championship fight is one of the most prestigious fights in the sporting world. And every fighter dreams to fight for the gold, in addition to winning it. The last thing they would want will be to miss weight.
That's what happened with Figueiredo before UFC Fight Night 169. He weighed  2.5 lbs more than the 125 lbs limit. Therefore, he was not eligible to hold the title even if he won it. The Brazilian, though, was not deterred by the happenings and won the fight against Joseph Benavidez via TKO.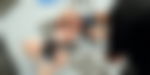 He had a rematch with the same opponent and this time he beat him fair and square via technical submission to claim the vacant crown at UFC Fight Night 172.
Has recorded the most finishes in the UFC flyweight division
It's not a hidden fact that the UFC flyweight division gets subdued by other divisions. Mostly, because there have been less flashy matches and most of the matches go the distance.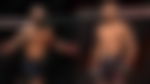 However, fighters like Demetrious Johnson and Figueiredo have challenged the trend and made fans take interest in the division. Figueiredo has scored 7 finishes in his combined total of 11 matches. He is tied with Johnson on that record but the former has done the same in fewer matches.
ADVERTISEMENT
Article continues below this ad
Deiveson Figueiredo is certainly looking great to continue the dominance in the division. He has already established himself as one of the best in UFC and not only in the flyweight division. He still has so much time in his career to be mentioned in the same breath as the legends of the sport.
Can the Brazilian native end up being counted amongst the best champions?
WATCH THIS STORY: 5 interesting facts you didn't know about Jon Jones
ADVERTISEMENT
Article continues below this ad