5 Things You Didn't Know About Israel Adesanya
Published 06/07/2021, 1:45 PM EDT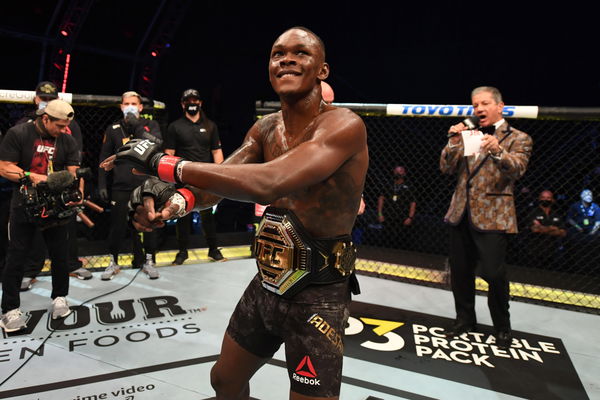 ---
---
Israel Adesanya is currently the UFC middleweight champion of the world. 'The Last Style Bender' is about to defend his welterweight gold against Marvin Vettori at UFC 263. The Nigerian has a charismatic style and is extremely dangerous when it comes down to taking his opponents out.
ADVERTISEMENT
Article continues below this ad
Adesanya leapfrogged his contemporaries to find his way to the top of the division after his UFC debut. He remains undefeated in the middleweight division and currently holds a record of (20-1-0). 
Adesanya is quite open with his professional and personal life. Fans have seen him on interviews, podcasts, and social media, but few things are still unknown about 'The Last Style Bender'. 
ADVERTISEMENT
Article continues below this ad
Ahead of his match against Vettori, we look at 5 things you probably didn't know about Israel Adesanya.
Combat career inspired by movie
'The Last Style Bender' used to attend kickboxing classes back in the day just to kill time after school. However, his mom stopped him from fighting after he broke his arm during training.
A martial arts movie, Ong-Bak, inspired Adesanya and he was eventually back in the gym, training at 18 with no combat sports experience.
Even though many fighters start at an early age to become professional fighters, Adesanya got his first fight just after 6 weeks of training.
'Broken Native' tattoo on his chest
The Nigerian fighter moved to New Zealand when he was 10. Adesanya found himself in a completely unknown country and felt like an odd man out. He dealt with bullying in high school, which influenced him to pursue martial arts.
Adesanya is one of the most skilled fighters today, but he came from nothing. To represent his unique upbringing and overcoming the odds, he has inked the words 'Broken Native' on his chest, which also signifies his allegiance to both Nigeria and New Zealand.
Most knock-down in a single fight
The 31-year-old is a knockout artist with a record of 15 wins via KO in his career. The fighter is not only known for his finishes but also for how he finishes his opponents in style. He holds many records in his impressive MMA career. One such record is of the most knockdowns in a single fight.
Adesanya faced Kelvin Gastelum for the interim middleweight gold at UFC 236. Although his match did not end in a knockout, Adesanya ended up setting a record of most knockdown in a single fight. During the match 'The Last Style bender' dropped Gastelum an astounding 4 times.
Big time anime fan
The Middleweight Champion is a big-time anime fan. His favorite cartoon series called Avatar: The Last Airbender heavily influenced the name 'The Last Stylebender'.
He has always shown his love for anime and pop culture. This interest in the fighter has attracted a young fan base. Adesanya is an active social media user, frequently sharing his moments with fans online.
During his interviews, the 20-1 record holder has been seen doing anime hand signs. Adesanya is a Naruto fan and has a stomach tattoo inspired by the show. He has also inked a tattoo of the main character from the series anime series Avatar on his forearm.
ADVERTISEMENT
Article continues below this ad
Israel Adesanya x Puma
It's not new for UFC fighters to have expensive deals on their corner. However, Israel Adesanya's partnership with Puma is one of a kind.
The 185-lbs title holder is the UFC's first fighter to bag a multi deal with the sportswear company Puma. While Venum remains the official sponsor of the UFC, 'The Last Stylebender' is often seen sporting Puma.
ADVERTISEMENT
Article continues below this ad
Israel Adesanya is one of the most charismatic fighters in the UFC. He has several unique features that distinguish him from the other fighters on the roster. That said, he continues to grow as a superstar in the combat world.