Alexander Volkanovski Believes Max Holloway Trilogy will Happen
Published 02/19/2021, 10:24 AM EST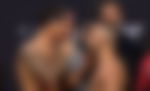 ---
---
Alexander Volkanovski is set to fight Brian Ortega at UFC 260 to defend his Featherweight title. He sat down in an interview with Farah Hannoun of MMA Junkie to discuss his upcoming fight and a possible fight with Max Holloway to complete the trilogy.
ADVERTISEMENT
Article continues below this ad
Hannoun asked him if the fight is a genuine possibility, and Alex replied in the affirmative. "Man, look, let's be real. That's always gonna come up, always going to be a big fight."
ADVERTISEMENT
Article continues below this ad
"There's going to be money in it. It's gonna make sense. Obviously, the timing isn't right now. I've got Ortega in front of me. I'm gonna focus on that. I can worry about that," he added, making sure that Ortega was wary of him.
Later on, in the interview, he directly addressed Ortega and reminded him that he was the only fighter on his mind.
"I'm not gonna sit there and say yeah, it's definitely gonna happen, but yeah, it probably will but further down the track. Right now, I've got a division to worry about, I've got Ortega to worry about, and he's got my full focus," he repeated. Volkanovski provided some relief to all the Holloway fans by admitting that the fight will probably happen.
Alexander Volkanovski vs. Max Holloway: The two controversial decisions
There is a lot of controversy surrounding their first two fights, which explains the need for a third match. Both of the fights went down to the wire, and the judges gave it to Volkanovski both of the times. He won the first fight via unanimous decision and the second via a split decision.
The result caused a massive outcry in favor of Holloway, as fans and pundits alike were of the opinion that Holloway won both of the fights. Seeing the immense backlash, the UFC has no option but to make the fight for the third time and hope that there is a clear winner this time around.
ADVERTISEMENT
Article continues below this ad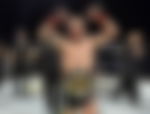 Holloway recently beat Calvin Kattar in a dominant display, and Volkanovski is set to fight Brian Ortega. If everything goes right, we might see the trilogy fight very soon. Now that's going to be a sight for sore eyes.
Do you think Max Holloway won any of the first two fights vs. Volkanovski?
ADVERTISEMENT
Article continues below this ad