Chechen Leader Steps in To Stop Khamzat Chimaev From Retiring?
Published 03/03/2021, 9:00 AM EST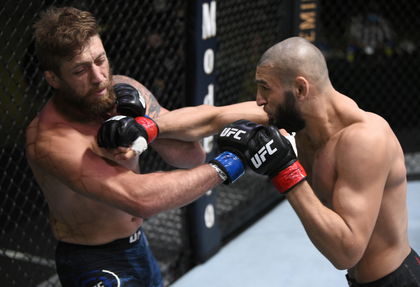 ---
---
Khamzat Chimaev has had a very hard few months. After becoming one of the most exciting new fighters in the UFC, Chimaev was locked in for a life-changing fight. Despite being at the bottom of the rankings, he got a bout with #3 Leon Edwards. However, that is where it all started to crumble for Chimaev.
ADVERTISEMENT
Article continues below this ad
The fight has gone through three cancellations due to both fighters getting COVID at different times. However, Chimaev's battle has been far worse and seems to be bothering him still. Chimaev announced an abrupt retirement from MMA on his Instagram, getting frustrated with the battle. However, Chechen leader Ramzan Kadyrov has stepped in to urge Chimaev to continue fighting.
Ramzan Kadyrov, the head of the Chechen Republic, posted on his IG this morning that he spoke to Khamzat Chimaev and essentially convinced him to not retire. "He remains and will fight to the end," the post states, per the IG translator. (h/t @wwlmma) pic.twitter.com/aI0HEX1QIB

— Ariel Helwani (@arielhelwani) March 2, 2021
ADVERTISEMENT
Article continues below this ad
"During our conversation, Chimaev realized how important his career is for every Chechen and promised to make every effort to recover as soon as possible. In the near future, he will fly to the Republic, where he will complete a rehabilitation course, hold a training camp and start training. And this means that Khamzat does not leave, HE REMAINS AND WILL BEAT TO THE END!"
Khamzat Chimaev: When will he return from this?
Khamzat Chimaev is having a very hard time because of COVID. He was just starting his career and a speedbump like this will be very inconvenient for the rising Middleweight/Welterweight. But Dana White and Ramzan Kadyrov seem hell-bent on making Chimaev continue.
ADVERTISEMENT
Article continues below this ad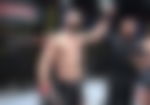 Of course, if fighting poses a major threat to Chimaev in the long term, he shouldn't return. But if he can return in good health and pick up where he left off, he should make a push to return. However, this incident will be worrying to many in terms of what Khamzat's headspace is right now.
ADVERTISEMENT
Article continues below this ad
Leon Edwards has been re-booked to face Belal Muhammad on the date he was supposed to fight Khamzat. The UFC couldn't keep delaying Edwards return to the cage anymore and now he has a date booked. What this means for Khamzat when he returns is unclear, but it looks like his safe return is in the interest of a lot of people.