Colby Covington Hits Out at Referee Marc Goddard Ahead of Tyron Woodley Fight
Published 09/17/2020, 9:49 AM EDT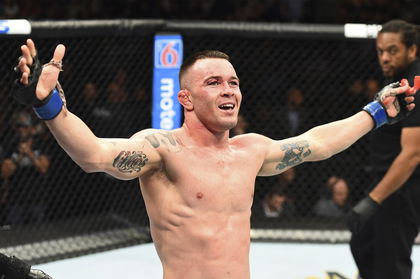 ---
---
Colby Covington is not afraid to speak his mind. The former interim champion does not mince his words, no matter who is on the receiving end. 'Chaos' has criticized everyone, from the fighters to the referee, and did not spare even the President of the UFC. 
ADVERTISEMENT
Article continues below this ad
Colby had been on a tear in the welterweight division since his loss to Warlley Alves. Following his loss, Colby went on a five-fight win streak which earned him an interim title shot against Rafael dos Anjos. 
However, Colby was later stripped of the interim title after he turned down a fight with Tyron Woodley, which was then awarded to Darren Till, following which Colby was out for almost a year. 
ADVERTISEMENT
Article continues below this ad
On his return to the octagon, Colby faced Robbie Lawler. He displayed his impressive striking and never-ending gas tank as he rag-dolled his former teammate on his way to a unanimous decision win. 
Following his win over Robbie, Colby was finally awarded a title shot. At UFC 245 Colby faced champion, Kamaru Usman. Their fight was an extremely entertaining back-and-forth match. The two men did not like each other at all and gave it their everything to win. However, it was champ Kamaru Usman who came out on top by stopping Colby in the fifth round.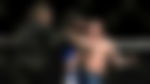 Following his loss, Colby Covington took to twitter to say that it was an early fight and abused the referee Marc Goddard. Ahead of his fight against Tyron Woodley this Saturday, Colby has similar concerns. 
Colby Covington concerned about the referee
In a recent video posted by BT sport, Colby gave his thoughts on the fight against Kamaru Usman and his thoughts on the referee. He said, "You know I gotta be smart with who I pick as my ref, Marc 'not so' Goddard completely f***ed me man. I kicked him (Usman) in the liver and he's about to fall like a lawn chair and quit the fight and be done. He faked the nut shot.
On the replay, it obviously showed that it was clearly in the liver and his organs were hurt and he just wanted a five-minute break and that's what he got. Then he got another break with the fake eye poke you know. I barely touched his left eye, and he's holding his right eye. 
ADVERTISEMENT
Article continues below this ad
"The ending was a very, very very quick stoppage. I mean, I was still in the fight. I told Marc I'm good! I'm good!. I'm holding the double leg, intelligently defending the back of my head, then all of sudden he stops it when he's hitting five shots to the back of my head. I mean it was a Bulls**t stoppage it was bulls**t ref-ing. The whole week I was set up from the start."
Do you think Colby is right in his assessment?
ADVERTISEMENT
Article continues below this ad