CRAZY! Francis Ngannou Shows off Insane Core Strength as He Absorbs Body Blows
Published 03/01/2021, 12:30 AM EST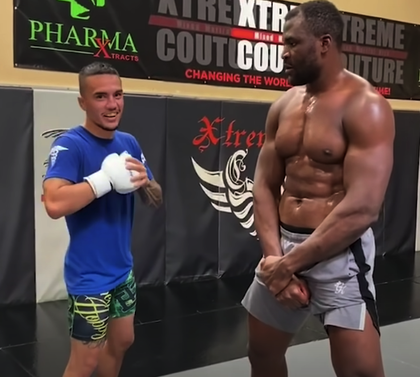 ---
---
The body shot challenge has been gaining popularity on social media over the past few months. Boxers such as Ryan Garcia and Jake Paul have posted videos of themselves throwing lethal body shots at each other in order to see who could bear more punishment. Now,  UFC heavyweight title contender, Francis Ngannou decided to put a spin on it by taking it up a notch. 
ADVERTISEMENT
Article continues below this ad
Videos have been surfacing lately of Francis Ngannou attempting the body shot challenge. While doing the challenge, the person receiving the shots normally has a protective gear on so as to not injure themselves.
'The Predator' however, ditched the gear and ate body shots flush as one fighter after another tried their best to hurt the Cameroonian. 
ADVERTISEMENT
Article continues below this ad
In the video, Erik Nicksick of Xtreme Couture MMA, and other fighters, loaded up on shots as they used Francis as a punching bag. Despite them throwing their best shots, 'The Predator' barely flinched. 
Read: 'Send me the date'- Daniel Cormier responds to Max Holloway callout 
Will a lean frame help Francis Ngannou at UFC 260?
UFC 260 will be arguably the biggest test to date for Francis Ngannou in his UFC career. He will take on Stipe Miocic three years on from the last time they fought each other.
Just six fights into his UFC career, 'The Predator' was set up against Stipe Miocic for the heavyweight title at UFC 220. During the fight, Miocic did a good job of evading power punches in the early rounds.
Subsequently, he used his wrestling and made Francis carry his weight for much of the fight. Besides this, he also dished out a lot of punishment on the ground. 
ADVERTISEMENT
Article continues below this ad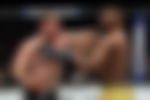 It is no secret that Ngannou does not have the best wrestling, and it was exposed against Stipe. Towards the end of the fight, in the championship rounds, Ngannou was exhausted to a point where he could not even keep his hands raised.
Going into this fight, Ngannou plans on entering the octagon much lighter and leaner than he did the first time around. Through this, he hopes to be more nimble on the feet and have more endurance than he did the last time out. 
ADVERTISEMENT
Article continues below this ad
He is also seemingly preparing for Miocic's body shots that troubled Daniel Cormier in their second fight. Do you see 'The Predator' walking out as the new heavyweight champion?