Ciryl Gane Says Power Punching Will Not Help Francis Ngannou Against Stipe Miocic
Published 02/27/2021, 12:30 PM EST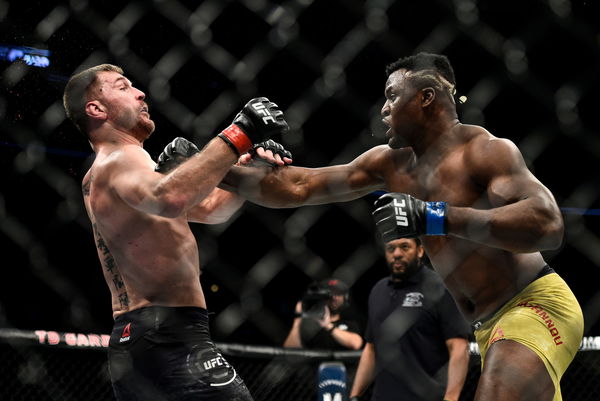 ---
---
Francis Ngannou is going to get his second crack at UFC Heavyweight Champion Stipe Miocic. While Miocic has had a trilogy of fights with Daniel Cormier since he last faced Ngannou, Francis went on a knockout streak that we haven't seen atop the Heavyweight division. He beat all top-10 ranked opponents within two minutes via knockout,
ADVERTISEMENT
Article continues below this ad
While we know Ngannou relies on his punching power, it became even more evident in the last few years. After his power and inability to connect with Stipe Miocic allowed the fight to slip away last time around, #7 ranked Heavyweight Ciryl Gane believes that Ngannou needs to fight with more IQ and slowly to beat Stipe.
ADVERTISEMENT
Article continues below this ad
"Maybe a guy little bit more fight IQ and manage the fight. We know he like to punch the guy with a lot of power. Maybe not the good choice. Maybe he should do more like manage."
While Ngannou has heard this before, he sticks to his style because it is super-efficient. It is unlikely that Ngannou is unaware of a Plan B this time around if his shots don't fall.
Gane will be fighting Ngannou's last victim Jairzinho Rozenstruik this weekend.
Francis Ngannou: Does he have a better chance this time around?
ADVERTISEMENT
Article continues below this ad
Francis Ngannou is definitely a better fighter now since his loss to Stipe in 2018. However, we haven't seen that improvement inside the cage. Ngannou simply has not had to use any skill outside his mammoth hands in any of his recent fights, so he isn't necessarily more battle-tested now.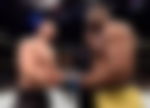 Miocic fought one of the best fighters in the world in Daniel Cormier three times in compelling bouts. They weren't the KO fests that Ngannou would put up, but be slower and more methodical. Miocic forced Ngannou into his game last time and it worked out for him.
ADVERTISEMENT
Article continues below this ad
Francis has read this fight many times, according to his own words. He has waited a long time to be in this position again and is almost undeniable. Hopefully, he treats it like the major thing it is and have more than one trick in his mammoth bag this time around.