Daniel Cormier Urges Dustin Poirier to Remember Getting Knocked Out by Conor McGregor
Published 01/04/2021, 4:30 AM EST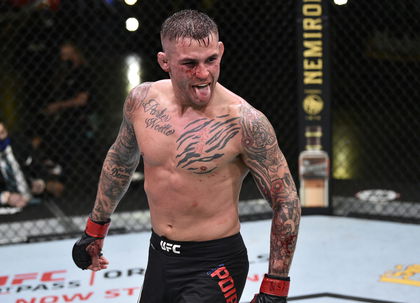 ---
---
Conor McGregor will mark his return to the octagon when he takes on former rival Dustin Poirier in a few weeks' time. The UFC 257 headliner is one of the most anticipated fights of the year. 'The Notorious' and 'The Diamond' are no strangers to each other. 
ADVERTISEMENT
Article continues below this ad
The two men previously faced each other at UFC 178. At the time 'The Notorious' was an up-and-coming fighter, whereas Dustin was a UFC veteran with multiple wins under his name. It took the Irish superstar under two minutes to finish 'The Diamond'. 
Now, the former interim champion is a much better and more experienced fighter. He has the opportunity to avenge his loss and prove that he has come leaps and bounds since the first encounter. 
ADVERTISEMENT
Article continues below this ad
Read: Conor McGregor is like a tank right now says his coach John Kavanagh 
Daniel Cormier gives his opinion on the psychological aspect of the rematch between Conor McGregor and Dustin Poirier
In an interview with SCMP MMA, the reporters asked Daniel Cormier if he thinks Conor has a psychological advantage going into the fight knowing what he did to Dustin the first time out. 
'DC' said,
"You know I think when you lose a fight… I know a lot about it right, I fought 'Rumble' twice. I fought Jones twice, Stipe three times. I've fought seven of my 25 fights against three dudes. I think any fighter can convince himself that he just got caught."
"And I think that's what Dustin is going to have to rely on in order to give himself a chance. Difficult to forget but, you want to remember it and use it to motivate you to do better in the rematch."
Leading into the fight, there have been a lot of questions as to how Dustin has processed the previous loss. McGregor's coach John Kavanagh believes that the knockout will affect Poirier in a negative way. 
ADVERTISEMENT
Article continues below this ad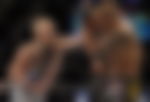 Per SBG Ireland's head coach, knowing that someone shut your lights out the last time you fought is not something that you can forget and get over. 
Read: John Kavanagh believes Dustin Poirier can not erase the first TKO loss to Conor McGregor 
ADVERTISEMENT
Article continues below this ad
Do you think Conor McGregor has a psychological advantage going into the rematch based on the last fight? Let us know in the comments below!